Email this article | Print this article | Link to this Article



2 Oct 2004
-
Middle
East
.Org
-

MER is Free
News, Views, & Analysis Governments, Lobbies, & the
Corporate Media Don't Want You To Know

The most honest, most comprehensive, and most mobilizing news and
analysis on the Middle East always comes from MER. It is indispensable!"
Robert Silverman - Salamanca, Spain
---
MIDDLE

EAST

.ORG
Extraordinarily important and insightful 'private' letter from Baghdad:

From Baghdad
A Wall Street Journal Reporter's E-Mail to Friends

by Farnaz Fassihi*
Iraq is a "disaster" that has deteriorated "into a
raging barbaric guerilla war" that will haunt the
United States for decades.

Being a foreign correspondent in Baghdad these days is like being under virtual house arrest. Forget about the reasons that lured me to this job: a chance to see the world, explore the exotic, meet new people in far away lands, discover their ways and tell stories that could make a difference.
Little by little, day-by-day, being based in Iraq has defied all those reasons. I am house bound. I leave when I have a very good reason to and a scheduled interview. I avoid going to people's homes and never walk in the streets. I can't go grocery shopping any more, can't eat in restaurants, can't strike a conversation with strangers, can't look for stories, can't drive in any thing but a full armored car, can't go to scenes of breaking news stories, can't be stuck in traffic, can't speak English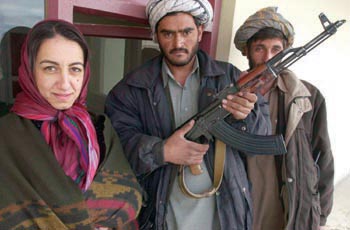 outside, can't take a road trip, can't say I'm an American, can't linger at checkpoints, can't be curious about what people are saying, doing, feeling. And can't and can't. There has been one too many close calls, including a car bomb so near our house that it blew out all the windows. So now my most pressing concern every day is not to write a kick-ass story but to stay alive and make sure our Iraqi employees stay alive. In Baghdad I am a security personnel first, a reporter second.
It's hard to pinpoint when the 'turning point' exactly began. Was it April when the Fallujah fell out of the grasp of the Americans? Was it when Moqtada and Jish Mahdi declared war on the U.S. military? Was it when Sadr City, home to ten percent of Iraq's population, became a nightly battlefield for the Americans? Or was it when the insurgency began spreading from isolated pockets in the Sunni triangle to include most of Iraq? Despite President Bush's rosy assessments, Iraq remains a disaster. If under Saddam it was a 'potential' threat, under the Americans it has been transformed to 'imminent and active threat,' a foreign policy failure bound to haunt the United States for decades to come.
Iraqis like to call this mess 'the situation.' When asked 'how are thing?' they reply: 'the situation is very bad."
What they mean by situation is this: the Iraqi government doesn't control most Iraqi cities, there are several car bombs going off each day around the country killing and injuring scores of innocent people, the country's roads are becoming impassable and littered by hundreds of landmines and explosive devices aimed to kill American soldiers, there are assassinations, kidnappings and beheadings. The situation, basically, means a raging barbaric guerilla war. In four days, 110 people died and over 300 got injured in Baghdad alone. The numbers are so shocking that the ministry of health -- which was attempting an exercise of public transparency by releasing the numbers -- has now stopped disclosing them.
Insurgents now attack Americans 87 times a day.
A friend drove thru the Shiite slum of Sadr City yesterday. He said young men were openly placing improvised explosive devices into the ground. They melt a shallow hole into the asphalt, dig the explosive, cover it with dirt and put an old tire or plastic can over it to signal to the locals this is booby-trapped. He said on the main roads of Sadr City, there were a dozen landmines per every ten yards. His car snaked and swirled to avoid driving over them. Behind the walls sits an angry Iraqi ready to detonate them as soon as an American convoy gets near. This is in Shiite land, the population that was supposed to love America for liberating Iraq.
For journalists the significant turning point came with the wave of abduction and kidnappings. Only two weeks ago we felt safe around Baghdad because foreigners were being abducted on the roads and highways between towns. Then came a frantic phone call from a journalist female friend at 11 p.m. telling me two Italian women had been abducted from their homes in broad daylight. Then the two Americans, who got beheaded this week and the Brit, were abducted from their homes in a residential neighborhood. They were supplying the entire block with round the clock electricity from their generator to win friends. The abductors grabbed one of them at 6 a.m. when he came out to switch on the generator; his beheaded body was thrown back near the neighborhoods.
The insurgency, we are told, is rampant with no signs of calming down. If any thing, it is growing stronger, organized and more sophisticated every day. The various elements within it-baathists, criminals, nationalists and Al Qaeda-are cooperating and coordinating.
I went to an emergency meeting for foreign correspondents with the military and embassy to discuss the kidnappings. We were somberly told our fate would largely depend on where we were in the kidnapping chain once it was determined we were missing. Here is how it goes: criminal gangs grab you and sell you up to Baathists in Fallujah, who will in turn sell you to Al Qaeda. In turn, cash and weapons flow the other way from Al Qaeda to the Baathisst to the criminals. My friend Georges, the French journalist snatched on the road to Najaf, has been missing for a month with no word on release or whether he is still alive.
America's last hope for a quick exit? The Iraqi police and National Guard units we are spending billions of dollars to train. The cops are being murdered by the dozens every day-over 700 to date -- and the insurgents are infiltrating their ranks. The problem is so serious that the U.S. military has allocated $6 million dollars to buy out 30,000 cops they just trained to get rid of them quietly.
As for reconstruction: firstly it's so unsafe for foreigners to operate that almost all projects have come to a halt. After two years, of the $18 billion Congress appropriated for Iraq reconstruction only about $1 billion or so has been spent and a chuck has now been reallocated for improving security, a sign of just how bad things are going here.
Oil dreams? Insurgents disrupt oil flow routinely as a result of sabotage and oil prices have hit record high of $49 a barrel. Who did this war exactly benefit? Was it worth it? Are we safer because Saddam is holed up and Al Qaeda is running around in Iraq?
Iraqis say that thanks to America they got freedom in exchange for insecurity. Guess what? They say they'd take security over freedom any day, even if it means having a dictator ruler.
I heard an educated Iraqi say today that if Saddam Hussein were allowed to run for elections he would get the majority of the vote. This is truly sad.
Then I went to see an Iraqi scholar this week to talk to him about elections here. He has been trying to educate the public on the importance of voting. He said, "President Bush wanted to turn Iraq into a democracy that would be an example for the Middle East. Forget about democracy, forget about being a model for the region, we have to salvage Iraq before all is lost."
One could argue that Iraq is already lost beyond salvation. For those of us on the ground it's hard to imagine what if any thing could salvage it from its violent downward spiral. The genie of terrorism, chaos and mayhem has been unleashed onto this country as a result of American mistakes and it can't be put back into a bottle.
The Iraqi government is talking about having elections in three months while half of the country remains a 'no go zone'-out of the hands of the government and the Americans and out of reach of journalists. In the other half, the disenchanted population is too terrified to show up at polling stations. The Sunnis have already said they'd boycott elections, leaving the stage open for polarized government of Kurds and Shiites that will not be deemed as legitimate and will most certainly lead to civil war.
I asked a 28-year-old engineer if he and his family would participate in the Iraqi elections since it was the first time Iraqis could to some degree elect a leadership. His response summed it all: "Go and vote and risk being blown into pieces or followed by the insurgents and murdered for cooperating with the Americans? For what? To practice democracy? Are you joking?" 29 September 2004
* Farnaz Fassihi, a Wall Street Journal reporter sent this report as an e-mail to friends -

WSJ EDITOR BACKS IRAQ SCREED
By KEITH J. KELLY
---
New York Post - September 30, 2004 -- Wall Street Journal Editor Paul Steiger has come to the defense of his beleaguered Baghdad correspondent, who blasted the war in Iraq as a "disaster" that has deteriorated "into a raging barbaric guerilla war" that will haunt the United States for decades.

"Despite President Bush's rosy assessments, Iraq remains a disaster," Wall Street Journal reporter Farnaz Fassihi wrote in a group e-mail to friends that inadvertently became widely posted on the Web.

Yesterday, the e-mail was mentioned prominently on the journalism blog by Jim Romenesko on the Poynter.org site.

Steiger said Fassihi's missive included "a few expressions of purely personal opinion about the situation there."

But the Wall Street Journal editor said the musings in no way distorted his reporter's ability to deliver fair coverage from Baghdad.

In her e-mail, Fassihi laments, "Being a foreign correspondent in Baghdad these days is like being under virtual house arrest."

Fears of abductions have sharply curtailed reporters ability to cover events or move about.

"My most pressing concern every day is not to write a kick-ass story but to stay alive and make sure our Iraqi employees stay alive. In Baghdad I am a security personnel first, a reporter second."

She also said the "Iraqi government doesn't control most Iraqi cities." She said there are car bombs, assassinations, kidnappings and beheadings. "The situation, basically, means a raging barbaric guerilla war."

Steiger said: "Ms. Fassihi's private opinions have in no way distorted her coverage, which has been a model of intelligent and courageous reporting, and scrupulous accuracy and fairness."
---

MER is Free
MID-EAST REALITIES - www.MiddleEast.Org

Phone:
(202) 362-5266
Fax:
(815) 366-0800
Email:
MER@MiddleEast.Org
Copyright © 2004 Mid-East Realities, All rights reserved
---
October 2004



Iran Next - Part 1
(October 31, 2004)
In a few days the American election itself will be history. The likelihood is the Bush/Cheney/neocon regime will remain in power; hard as that still is for so many to imagine and understand. Should the Democrats win the White House Middle East policies will be largely in the hands of the neoliberals and the super money-men like Haim Saban who when it comes to the Middle East and Israel have far more in common with the neocons than has yet been realized by many who will vote for them. Whatever happens on Tuesday next the build-up to attacking and if at all possible regime changing Iran is well underway and the showdown increasingly imminent.

Osama, Bush, Kerry - Past, Present, Future
(October 30, 2004)
Few Middle East realities have been heard during this long grueling American election campaign. Most of the rhetoric has been extraordinarily self-righteous and self-serving, disingenuous and dishonest. Sad and tragic as it is to have to say, for many in the Middle East and around the world beyond American shores, tactics aside, the words of Osama Bin Laden ring more true to their experience and perspective regarding U.S. foreign policy than those of either George Bush or John Kerry.

Fahrenheit 9/11 - Watch It On Your Computer This Weekend
(October 30, 2004)
Who would have imagined on 9/11 more than three years ago now that the top front-page story in the Washington Post Saturday before the 2004 election would be a picture of Osama Bin Laden addressing the American people! Reality keeps trumping fiction time after time in our era!

Escalating War Against the World after November 2nd?
(October 29, 2004)
Whether the Americans are lead by Bush and the neocons, or by Kerry and the neoliberals, the reality is that both of the great American political parties are today dominated by their super-hawkish Israeli-connected elements and that both are heavily mortgaged to major, however competing, segments of the Israeli-Jewish lobby in Washington.

ARAFAT - Pathetic Symbolism for the 'Grand Old Man' of the Palestinians
(October 29, 2004)
There is often such pathetic symbolism surrounding Yasser Arafat even as many of his people cling to his legacy as the 'symbol of Palestinian nationalism' -- itself nearly as tattered and frail as the Grand Old Man has himself become.

Bush Uncensored; Cheney Unauthorized
(October 28, 2004)
MAKE SURE TO WATCH THESE TWO VIDEOS ABOUT GEORGE BUSH and DICK CHENEY

Gaza Scam + Dem Party Emails American Jews
(October 27, 2004)
The price for the past political trickery has already been very high. The poison of the Israeli-Arab conflict has spread continually for decades now and played a substantial role in bringing about today's 'Clash of Civilizations' whose end is yet in sight. The eventual future price for what is happening these days threatens to be higher yet, potentially catastrophic.

IRAN Attack Imminent?
(October 24, 2004)
Though few in the world may fully realize it, international society is now at a historic moment and the future, even a potential World War III, is in the balance. Hence the leaks coming from Washington from those trying to warn, and to prevent, what the top neocons and Israeli operatives are pushing hard to bring about. Hence last month's extremely unusual 'Israeli Spy Scandal' which had officials in the FBI charging people working on the Iranian attack in coordination with the Israeli-Jewish lobby with espionage for Israel. Hence, as this article by a former National Security Council operative suggests: "Intelligence circles report that both intelligence agencies (CIA and Pentagon) are in open revolt against the Bush White House." It appears to have been quickly written and then quickly internet published using LebanonWire in the Middle East.

Cheney Uncovered - An Unauthorized Documentary by the CBC
(October 23, 2004)
Reporter Jean Heller presented Soviet satellite photos which did not show Iraqi troops amassed on the Saudi border to the Pentagon. "It's what it (the photos) didn't show that's more important. What you expected to see were tanks on the border. There was none that we could see. I said, look, if you can prove to me that our story isn't true, we won't run it. And they just ignored it. They have never shown those (U.S. satellite images) photos. Not then and not since."

New CIA 'Shocking' Cover-Up
(October 22, 2004)
Completed in June, mandated by Congress nearly two years ago, the CIA Report that names names is being suppressed until after the election. "What all the other reports on 9/11 did not do is point the finger at individuals, and give the how and what of their responsibility. This report does that," said the intelligence official. "The report found very senior-level officials responsible."

Talk about American Imperialism and Chutzpah!
(October 22, 2004)
The reaction in many quarters must be 'Oh My God'. Bill, Hillary, and Tenet all seek higher office! Talk about American Imperialism and Chutzpah!

The WARLORDS of AMERICA
(October 21, 2004)
Regardless of what happens on 2 November in the U.S. election, one group or another of "the Warlords of America" will be in power in Washington. And the years now immediately ahead, regardless if the President is named Kerry or Bush, are quickly shaping up as likely to be the most dangerous in modern history.

America on the Edge
(October 20, 2004)
The amazing thing about this American election is that in view of what has happened in the U.S. and in the world the Democrats should be running away with it -- and yet they are struggling everywhere and likely to go down to defeat.

Israel on Road to being Pariah State
(October 15, 2004)
Indeed Israeli policies and attitudes have for some time now seriously poisoned political relations throughout the Middle East, substantially helped bring about the era of the 'Clash of Civilizations', and through the powerful Israeli/Jewish lobby in Washington pushed the United States into the invasion of Iraq and other militarist isolated policies whose dangerous and destructive ramifications will be felt for many years to come

The Next Generation of Palestinians
(October 13, 2004)
If what has happened in Gaza in recent years would have happened in the USA (adjusted for population size) more than 100,000 Americans would have been killed and more than a quarter million homes destroyed by a foreign occupying army using battle tanks and attack helicopters against small resistance groups in cities and towns.

AMERICAN SECRET GULAG EXPANDING
(October 14, 2004)
THE CIA has greatly expanded its activities throughout the Middle East including in Jordan and Egypt as well as Iraq, Kuwait, Saudi Arabia and other countries throughout the region. Of course the CIA and the Mossad are working more closely together than ever to control the region and enforce what is now essentially the militarily imposed 'new world order' first announced during the current President father's days in the White House. Before President Bush I became President he was in fact the Director of the CIA, whose main headquarters is now named after him.

AOL Censors MER
(October 20, 2004)
AOL -- one of the largest internet service providers -- is blocking and censoring MER. Persons who subscribe to MER using an AOL email address can not receive MER -- it is being secretly censored from their mailboxes by AOL without notice of any kind. It is believed persons working for AOL may be censoring MER in coordination with Jewish Zionist groups. It may be that AOL has a special relationship with Jewish.com and other Israeli-connected groups in some way. It is all being done in secret with no notice of any kind to either AOL users or MER. A few of the messages we have received from AOL subscribers to MER follow:

Major Iraq Attacks on Hold Until After U.S. Vote
(October 11, 2004)
The Pentagon chief Donald Rumsfeld made an unannounced visit to Iraq in recent days. And soon after the American election the superpower military will be much more fully unleashed throughout the country preparing to push the U.S.-appointed strong-man Iyad Allawai forward in the carefully staged 'election' that will proceed if 'conditions are right'. In other words, just as Hamid Karzai was U.S. -installed and then essentially U.S.-elected in Afghanistan, the same template is now planned for Iraq.

U.S. Forces IMF into secret Iraqi debt 'forgiveness' scheme
(October 11, 2004)
But maybe most of all in the longer run, and unspoken now for all of these reasons by the powers that be, once Iraq's prior debt to other countries is 'off the books', the new U.S.-installed and CIA-controlled government in Baghdad is free to sign agreements with the Americans -- secret or otherwise -- that will essentially mortgage Iraq's future oil revenues to the U.S.A. and those it approves.

Chomsky on American Force and Pre-emption
(October 10, 2004)
"Bush planners know as well as others that the resort to force increases the threat of terror, and that their militaristic and aggressive posture and actions provoke reactions that increase the risk of catastrophe."

IRAN - Targeted by U.S. and Israel
(October 9, 2004)
You would think after the Iraq debacle that the ability of the U.S. to blackball, sanction, and then attack, occupy and regime-change another country would be considerable reduced. Not so however as this article in Z Magazine helps explain with regard to Iran. Indeed, soon after the American election the situation will quickly escalate.

The Debates - Fixed and Controlled
(October 8, 2004)
The moderators -- both from the Public Broadcasting System (PBS) -- could have, and should have, asked hard, probing, unexpected questions like this:

Israeli AIPAC Spy Scandal - Update
(October 7, 2004)
It was just a month ago that the latest Washington spy scandal involving the very heart of the Israeli-Jewish Lobby had everyone buzzing. Then it faded from view as the corporate media moved on, as CBS News which originally broke the story found itself under assault, and as the election campaign and debates took center stage. Interesting, not one question from the PBS moderators about Israeli spying, nor even about the U.S. veto of the Security Council resolution condemning Israel, nor the International Court of Justice decision doing the same. Here's an update -- however inadequate -- from yesterday's L.A.Times. Though the real heart of the story should be AIPAC and the influence, tactics, and status of the Israeli-Jewish lobby; instead they focus on just the individual and not as they should on the large group of support persons and organizations. This should especially include, of course, the current cabal of largely Jewish neocons in top positions...including the one who hired Larry Franklin (Douglas Feith), and the ones who hired him (Paul Wolfowitz and Richard Perle).

AOL Blocks and Censors MER Articles
(October 6, 2004)
AOL is blocking and censoring MER articles because of pressures originating with Jewish and Israeli groups.

Emergency U.N. Security Council Meeting on Israel
(October 4, 2004)


The Springsteen 'Vote For Change' Concerts
(October 5, 2004)
"The press has let the country down. It's taken a very amoral stand, in that essential issues are often portrayed as simply one side says this and the other side says that. I think that Fox News and the Republican right have intimidated the press into an incredible self-consciousness about appearing objective and backed them into a corner of sorts where they have ceded some of their responsibility and righteous power." - Bruce Springsteen

Israel's Peacenik - Uri Avneri: Realities
(October 5, 2004)
"Uri Avneri, along with many Israelis and Jews, rightly fears that at some point Israel will be the direct target of blame for it's major contribution to having brought about such terrorism in the world and pushing the U.S. into invading Iraq. It is an understandable fear; for it is to a significant degree true."

Iraq is a "disaster...that will haunt the U.S. for decades" - Wall Street Journal Reporter
(October 2, 2004)
Iraq is a "disaster" that has deteriorated "into a raging barbaric guerilla war" that will haunt the United States for decades.

The Passion of the Bush
(October 2, 2004)
As the modern-day American-Israeli led Christian-Jewish crusade to remake the Middle East in the name of 'democracy and freedom' proceeds, this new documentary is telling indeed. It was first shown at the Republican Convention in New York a few weeks ago; and now, as a kind of Bush-loving counter to Fahrenhite 9/11, the DVD is being rushed out in advance of the upcoming election.

U.S. and Israel Prepare for Iran +
(October 1, 2004)
Even as the two branches of the American political establishment semi-debated last night who would fight the new wars better than the other, even as U.S. and Israeli battle tanks and attack aircraft bombed and killed in Iraq and Palestine worse than ever, preparations to either force compliance or attack Iran, Syria, Hezbollah (Lebanon), Hamas (Palestine), and North Korea soon after the American election are fast proceeding at the Pentagon and the CIA.