Email this article | Print this article | Link to this Article



If you don't get MER, you just don't get it!
1 Oct 2004
-
Middle
East
.Org
-

MER is Free
News, Views, & Analysis Governments, Lobbies, & the
Corporate Media Don't Want You To Know

The most honest, most comprehensive, and most mobilizing news and
analysis on the Middle East always comes from MER. It is indispensable!"
Robert Silverman - Salamanca, Spain



Comment on this and other MER articles in the

MER FORUM
---
THE PASSION OF THE BUSH
"Faith in the White House" - the DVD

" 'Will George W. Bush be allowed to finish the battle against
the forces of evil that threaten our very existence?' Such is
the portentous question posed at the film's conclusion
by its narrator, the religious broadcaster Janet Parshall...
Anyone who stands in the way of Mr. Bush completing his
godly battle, of course, is a heretic. Facts on the ground
in Iraq don't matter. Rational arguments mustered in
presidential debates don't matter. Logic of any kind is a
nonstarter. The president - who after 9/11 called the war
on
terrorism a 'crusade,' until protests forced the
White
House to backpedal - is divine."


The Crusade Expands Falsely Renamed 'Democracy'
MIDDLE

EAST

.ORG
-MER - Washington - 1 Oct:

Remember "The Passion of the Christ" -- Mel Gibson's portrayal of the last days of Jesus that was such a phenomena earlier this year?



Now, playing to their Evangelical Christian Base, the Bush/Cheney administration has brought forth what

New York Times

columnist Frank Rich cleverly terms "The Passion of the Bush".



As the modern-day American-Israeli led Christian-Jewish crusade to remake the Middle East in the name of 'democracy and freedom' proceeds, this new documentary is telling indeed. It was first shown at the Republican Convention in New York a few weeks ago; and now, as a kind of Bush-loving counter to Fahrenhite 9/11, the DVD is being rushed out in advance of the upcoming election.





Today by the way is an anniversary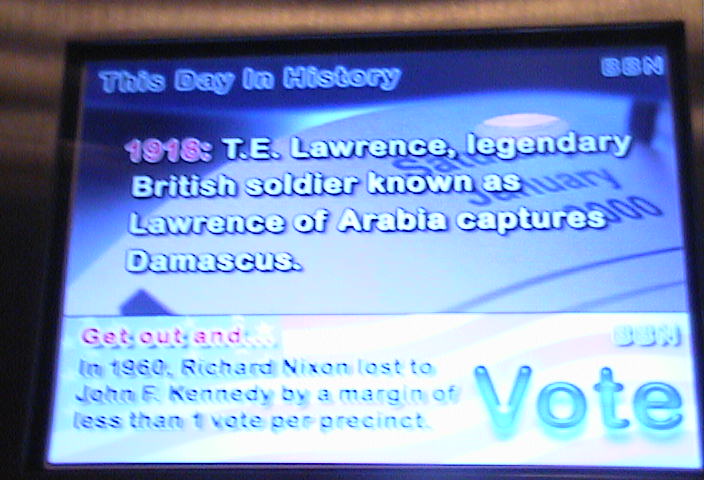 day in history from which so much has since flowed. On this date in 1918 T.E. Lawrence -- even then known as Lawrence of Arabia -- took Damascus by force of arms from the Ottoman Turks in the name of Arab independence. But later that year came the Paris Peace Conference -- the infamous "Peace to end all Peace" -- which betrayed the Arabs, destroyed Lawrence, and fragmented the Middle East into a neo-colonial hodgepodge from which it has yet to recover.

And now, a few generations later, the results of what happened then in the era of El Lawrence are playing out in Washington as the two big branchs of the American establishment battle it out over who is going to kill more terrorists, support Israel more, and be more victorious in the Middle East than the other.


Now on DVD: The Passion of the Bush
By FRANK RICH

New York Times, Sunday, 3 October 2004: You can run but you can't hide: Oct. 5 will bring the perfect storm in this year's culture wars. It's on that strategically chosen date, four Tuesdays before the election, that the DVD of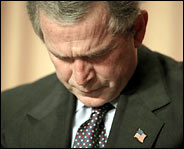 "Fahrenheit 9/11" will be released along with not one but two new Michael Moore books. It's also the release date of the equally self-effacing Ann Coulter's latest rant, of a new DVD documentary, "Horns and Halos," that revisits the Bush mystery year of 1972, and of an R.E.M. album, "Around the Sun," that gets in its own political licks at the state of the nation.
When Dick Cheney and John Edwards debate in Cleveland that night, Bruce Springsteen will be barnstorming in another swing state, as the Vote for Change tour hits St. Paul. All that's needed to make the day complete is a smackdown between Kinky Friedman and Teresa Heinz Kerry on "Imus in the Morning."
Of the many cultural grenades being tossed that day, though, the one must-see is "George W. Bush: Faith in the White House," a DVD that is being specifically marketed in "head to head" partisan opposition to "Fahrenheit 9/11." This documentary first surfaced at the Republican convention in New York, where it was previewed in tandem with an invitation-only, no-press-allowed "Family, Faith and Freedom Rally," a Ralph Reed-Sam Brownback jamboree thrown by the Bush campaign for Christian conservatives. Though you can buy the DVD for $14.95, its makers told the right-wing news service WorldNetDaily.com that they plan to distribute 300,000 copies to America's churches. And no wonder. This movie aspires to be "The Passion of the Bush," and it succeeds.
More than any other campaign artifact, it clarifies the hard-knuckles rationale of the president's vote-for-me-or-face-Armageddon re-election message. It transforms the president that the Democrats deride as a "fortunate son" of privilege into a prodigal son with the "moral clarity of an old-fashioned biblical prophet." Its Bush is not merely a sincere man of faith but God's essential and irreplaceable warrior on Earth. The stations of his cross are burnished into cinematic fable: the misspent youth, the hard drinking (a thirst that came from "a throat full of Texas dust"), the fateful 40th-birthday hangover in Colorado Springs, the walk on the beach with Billy Graham. A towheaded child actor bathed in the golden light of an off-camera halo re-enacts the young George comforting his mom after the death of his sister; it's a parable anticipating the future president's miraculous ability to comfort us all after 9/11. An older Bush impersonator is seen rebuffing a sexual come-on from a fellow Bush-Quayle campaign worker hovering by a Xerox machine in 1988; it's an effort to imbue our born-again savior with retroactive chastity. As for the actual president, he is shown with a flag for a backdrop in a split-screen tableau with Jesus. The message isn't subtle: they were separated at birth.
"Faith in the White House" purports to be the product of "independent research," uncoordinated with the Bush-Cheney campaign. But many of its talking heads are official or unofficial administration associates or sycophants. They include the evangelical leader and presidential confidant Ted Haggard (who is also one of Mel Gibson's most fervent P.R. men) and Deal Hudson, an adviser to the Bush-Cheney campaign until August, when he resigned following The National Catholic Reporter's investigation of accusations that he sexually harassed an 18-year-old Fordham student in the 1990's. As for the documentary's "research," a film positioning itself as a scrupulously factual "alternative" to "Fahrenheit 9/11" should not inflate Mr. Bush's early business "success" with Arbusto Energy (an outright bust for most of its investors) or the number of children he's had vaccinated in Iraq ("more than 22 million," the movie claims, in a country whose total population is 25 million).
"Will George W. Bush be allowed to finish the battle against the forces of evil that threaten our very existence?" Such is the portentous question posed at the film's conclusion by its narrator, the religious broadcaster Janet Parshall, beloved by some for her ecumenical generosity in inviting Jews for Jesus onto her radio show during the High Holidays. Anyone who stands in the way of Mr. Bush completing his godly battle, of course, is a heretic. Facts on the ground in Iraq don't matter. Rational arguments mustered in presidential debates don't matter. Logic of any kind is a nonstarter. The president - who after 9/11 called the war on terrorism a "crusade," until protests forced the White House to backpedal - is divine. He may not hear "voices" instructing him on policy, testifies Stephen Mansfield, the author of one of the movie's source texts, "The Faith of George W. Bush," but he does act on "promptings" from God. "I think we went into Iraq not so much because there were weapons of mass destruction," Mr. Mansfield has explained elsewhere, "but because Bush had concluded that Saddam Hussein was an evildoer" in the battle "between good and evil." So why didn't we go into those other countries in the axis of evil, North Korea or Iran? Never mind. To ask such questions is to be against God and "with the terrorists."
The propagandists of "Faith in the White House" argue, as others have, that the president's invocation of religion in the public sphere, from his citation of Jesus as his favorite "political philosopher" to his incessant invocation of the Almighty in talking about how everything is coming up roses in Iraq, is consistent with the civic spirituality practiced by his antecedents, from the founding fathers to Bill Clinton. It's not. Past presidents have rarely, if ever, claimed such godlike infallibility. Mr. Bush never admits to making a mistake; even his premature "Mission Accomplished" victory lap wasn't in error, as he recently told Bill O'Reilly. After all, if you believe "God wants me to be president" - a quote attributed to Mr. Bush by the Rev. Richard Land of the Southern Baptist Convention - it's a given that you are incapable of making mistakes. Those who say you have are by definition committing blasphemy. A God-appointed leader even has the power to rewrite His texts. Jim Wallis, the liberal evangelical author, has pointed out Mr. Bush's habit of rejiggering specific scriptural citations so that, say, the light shining into the darkness is no longer God's light but America's and, by inference, the president's own.
It's not just Mr. Bush's self-deification that separates him from the likes of Lincoln, however; it's his chosen fashion of Christianity. The president didn't revive the word "crusade" idly in the fall of 2001. His view of faith as a Manichaean scheme of blacks and whites to be acted out in a perpetual war against evil is synergistic with the violent poetics of the best-selling "Left Behind" novels by Tim LaHaye and Jerry Jenkins and Mel Gibson's cinematic bloodfest. The majority of Christian Americans may not agree with this apocalyptic worldview, but there's a big market for it. A Newsweek poll shows that 17 percent of Americans expect the world to end in their lifetime. To Karl Rove and company, that 17 percent is otherwise known as "the base."
The pandering to that base has become familiar in countless administration policies, starting with its antipathy to stem-cell research, abortion, condoms for H.I.V. prevention and gay civil rights. But ever since Mr. Bush's genuflection to Bob Jones University threatened to shoo away moderates in 2000, the Rove ruse is to try to keep the most militant and sectarian tactics of the Bush religious program under the radar. (Mr. Rove even tried to deny that the wooden lectern at the Republican convention was a pulpit embedded with a cross, as if a nation of eyewitnesses could all be mistaken.) The re-election juggernaut has not only rounded up the membership rosters of churches en masse but quietly mounted official Web sites like kerrywrongforcatholics.com as well. (Evangelicals and Mormons have their own Web variants on this same theme, but not the Jews, who are apparently getting in Kerry just what they deserve.) Even the contraband C-word is being revived out of sight of most of the press: Marc Racicot, the Bush-Cheney campaign chairman, lobbed a direct-mail fund-raising letter in March describing Mr. Bush as "leading a global crusade against terrorism."
In this spring's classic "South Park" parody, "The Passion of the Jew," in which Mr. Gibson's movie tosses the community into a religious war, one of the kids concludes: "If you want to be Christian, that's cool, but you should focus on what Jesus taught instead of how he got killed. Focusing on how he got killed is what people did in the Dark Ages, and it ends up with really bad results." He has a point. It's far from clear that Mr. Bush's eschatology and his religious vanity are leading to good results now. The all-seeing president who could pronounce Vladimir Putin saintly by looking into his "soul" is now refusing to acknowledge that the reverse may be true. The general in charge of tracking down Osama bin Laden, William G. Boykin, has earned cheers in some quarters for giving speeches at churches proclaiming that Mr. Bush is "in the White House because God put him there" to lead the "army of God" against "a guy named Satan." But all that preaching didn't get his day job done; he hasn't snared the guy named Osama he was supposed to bring back "dead or alive."
"George W. Bush: Faith in the White House" must be seen because it shows how someone like General Boykin can stay in his job even in failure and why Mr. Bush feels divinely entitled to keep his job even as we stand on the cusp of an abyss in Iraq. In this pious but not humble worldview, faith, or at least a certain brand of it, counts more than competence, and a biblical mission, or at least a simplistic, blunderbuss facsimile of one, counts more than the secular goal of waging an effective, focused battle against an enemy as elusive and cunning as terrorists. That no one in this documentary, including its hero, acknowledges any constitutional boundaries between church and state is hardly a surprise. To them, America is a "Christian nation," period, with no need even for the fig-leaf prefix of "Judeo-."
Far more startling is the inability of a president or his acolytes to acknowledge any boundary that might separate Mr. Bush's flawed actions battling "against the forces of evil" from the righteous dictates of God. What that level of hubris might bring in a second term is left to the imagination, and "Faith in the White House" gives the imagination room to run riot about what a 21st-century crusade might look like in the flesh. A documentary conceived as a rebuke to "Fahrenheit 9/11" is nothing if not its unintentional and considerably more nightmarish sequel.
---
Please forward MER articles to others in their entirety with proper attribution.
Your comments and information and welcome in the new MER FORUM.
Make Sure You are Subscribed to receive MER - it's free, it's vital, it's exclusive


---


MID-EAST REALITIES - www.MiddleEast.Org


Phone:

(202) 362-5266

Fax:

(815) 366-0800

Email:

MER@MiddleEast.Org


Copyright © 2004 Mid-East Realities, All rights reserved




If you don't get MER,

you just don't get it!
Click here to subscribe by email


October 2004



Iran Next - Part 1
(October 31, 2004)
In a few days the American election itself will be history. The likelihood is the Bush/Cheney/neocon regime will remain in power; hard as that still is for so many to imagine and understand. Should the Democrats win the White House Middle East policies will be largely in the hands of the neoliberals and the super money-men like Haim Saban who when it comes to the Middle East and Israel have far more in common with the neocons than has yet been realized by many who will vote for them. Whatever happens on Tuesday next the build-up to attacking and if at all possible regime changing Iran is well underway and the showdown increasingly imminent.

Osama, Bush, Kerry - Past, Present, Future
(October 30, 2004)
Few Middle East realities have been heard during this long grueling American election campaign. Most of the rhetoric has been extraordinarily self-righteous and self-serving, disingenuous and dishonest. Sad and tragic as it is to have to say, for many in the Middle East and around the world beyond American shores, tactics aside, the words of Osama Bin Laden ring more true to their experience and perspective regarding U.S. foreign policy than those of either George Bush or John Kerry.

Fahrenheit 9/11 - Watch It On Your Computer This Weekend
(October 30, 2004)
Who would have imagined on 9/11 more than three years ago now that the top front-page story in the Washington Post Saturday before the 2004 election would be a picture of Osama Bin Laden addressing the American people! Reality keeps trumping fiction time after time in our era!

Escalating War Against the World after November 2nd?
(October 29, 2004)
Whether the Americans are lead by Bush and the neocons, or by Kerry and the neoliberals, the reality is that both of the great American political parties are today dominated by their super-hawkish Israeli-connected elements and that both are heavily mortgaged to major, however competing, segments of the Israeli-Jewish lobby in Washington.

ARAFAT - Pathetic Symbolism for the 'Grand Old Man' of the Palestinians
(October 29, 2004)
There is often such pathetic symbolism surrounding Yasser Arafat even as many of his people cling to his legacy as the 'symbol of Palestinian nationalism' -- itself nearly as tattered and frail as the Grand Old Man has himself become.

Bush Uncensored; Cheney Unauthorized
(October 28, 2004)
MAKE SURE TO WATCH THESE TWO VIDEOS ABOUT GEORGE BUSH and DICK CHENEY

Gaza Scam + Dem Party Emails American Jews
(October 27, 2004)
The price for the past political trickery has already been very high. The poison of the Israeli-Arab conflict has spread continually for decades now and played a substantial role in bringing about today's 'Clash of Civilizations' whose end is yet in sight. The eventual future price for what is happening these days threatens to be higher yet, potentially catastrophic.

IRAN Attack Imminent?
(October 24, 2004)
Though few in the world may fully realize it, international society is now at a historic moment and the future, even a potential World War III, is in the balance. Hence the leaks coming from Washington from those trying to warn, and to prevent, what the top neocons and Israeli operatives are pushing hard to bring about. Hence last month's extremely unusual 'Israeli Spy Scandal' which had officials in the FBI charging people working on the Iranian attack in coordination with the Israeli-Jewish lobby with espionage for Israel. Hence, as this article by a former National Security Council operative suggests: "Intelligence circles report that both intelligence agencies (CIA and Pentagon) are in open revolt against the Bush White House." It appears to have been quickly written and then quickly internet published using LebanonWire in the Middle East.

Cheney Uncovered - An Unauthorized Documentary by the CBC
(October 23, 2004)
Reporter Jean Heller presented Soviet satellite photos which did not show Iraqi troops amassed on the Saudi border to the Pentagon. "It's what it (the photos) didn't show that's more important. What you expected to see were tanks on the border. There was none that we could see. I said, look, if you can prove to me that our story isn't true, we won't run it. And they just ignored it. They have never shown those (U.S. satellite images) photos. Not then and not since."

New CIA 'Shocking' Cover-Up
(October 22, 2004)
Completed in June, mandated by Congress nearly two years ago, the CIA Report that names names is being suppressed until after the election. "What all the other reports on 9/11 did not do is point the finger at individuals, and give the how and what of their responsibility. This report does that," said the intelligence official. "The report found very senior-level officials responsible."

Talk about American Imperialism and Chutzpah!
(October 22, 2004)
The reaction in many quarters must be 'Oh My God'. Bill, Hillary, and Tenet all seek higher office! Talk about American Imperialism and Chutzpah!

The WARLORDS of AMERICA
(October 21, 2004)
Regardless of what happens on 2 November in the U.S. election, one group or another of "the Warlords of America" will be in power in Washington. And the years now immediately ahead, regardless if the President is named Kerry or Bush, are quickly shaping up as likely to be the most dangerous in modern history.

America on the Edge
(October 20, 2004)
The amazing thing about this American election is that in view of what has happened in the U.S. and in the world the Democrats should be running away with it -- and yet they are struggling everywhere and likely to go down to defeat.

Israel on Road to being Pariah State
(October 15, 2004)
Indeed Israeli policies and attitudes have for some time now seriously poisoned political relations throughout the Middle East, substantially helped bring about the era of the 'Clash of Civilizations', and through the powerful Israeli/Jewish lobby in Washington pushed the United States into the invasion of Iraq and other militarist isolated policies whose dangerous and destructive ramifications will be felt for many years to come

The Next Generation of Palestinians
(October 13, 2004)
If what has happened in Gaza in recent years would have happened in the USA (adjusted for population size) more than 100,000 Americans would have been killed and more than a quarter million homes destroyed by a foreign occupying army using battle tanks and attack helicopters against small resistance groups in cities and towns.

AMERICAN SECRET GULAG EXPANDING
(October 14, 2004)
THE CIA has greatly expanded its activities throughout the Middle East including in Jordan and Egypt as well as Iraq, Kuwait, Saudi Arabia and other countries throughout the region. Of course the CIA and the Mossad are working more closely together than ever to control the region and enforce what is now essentially the militarily imposed 'new world order' first announced during the current President father's days in the White House. Before President Bush I became President he was in fact the Director of the CIA, whose main headquarters is now named after him.

AOL Censors MER
(October 20, 2004)
AOL -- one of the largest internet service providers -- is blocking and censoring MER. Persons who subscribe to MER using an AOL email address can not receive MER -- it is being secretly censored from their mailboxes by AOL without notice of any kind. It is believed persons working for AOL may be censoring MER in coordination with Jewish Zionist groups. It may be that AOL has a special relationship with Jewish.com and other Israeli-connected groups in some way. It is all being done in secret with no notice of any kind to either AOL users or MER. A few of the messages we have received from AOL subscribers to MER follow:

Major Iraq Attacks on Hold Until After U.S. Vote
(October 11, 2004)
The Pentagon chief Donald Rumsfeld made an unannounced visit to Iraq in recent days. And soon after the American election the superpower military will be much more fully unleashed throughout the country preparing to push the U.S.-appointed strong-man Iyad Allawai forward in the carefully staged 'election' that will proceed if 'conditions are right'. In other words, just as Hamid Karzai was U.S. -installed and then essentially U.S.-elected in Afghanistan, the same template is now planned for Iraq.

U.S. Forces IMF into secret Iraqi debt 'forgiveness' scheme
(October 11, 2004)
But maybe most of all in the longer run, and unspoken now for all of these reasons by the powers that be, once Iraq's prior debt to other countries is 'off the books', the new U.S.-installed and CIA-controlled government in Baghdad is free to sign agreements with the Americans -- secret or otherwise -- that will essentially mortgage Iraq's future oil revenues to the U.S.A. and those it approves.

Chomsky on American Force and Pre-emption
(October 10, 2004)
"Bush planners know as well as others that the resort to force increases the threat of terror, and that their militaristic and aggressive posture and actions provoke reactions that increase the risk of catastrophe."

IRAN - Targeted by U.S. and Israel
(October 9, 2004)
You would think after the Iraq debacle that the ability of the U.S. to blackball, sanction, and then attack, occupy and regime-change another country would be considerable reduced. Not so however as this article in Z Magazine helps explain with regard to Iran. Indeed, soon after the American election the situation will quickly escalate.

The Debates - Fixed and Controlled
(October 8, 2004)
The moderators -- both from the Public Broadcasting System (PBS) -- could have, and should have, asked hard, probing, unexpected questions like this:

Israeli AIPAC Spy Scandal - Update
(October 7, 2004)
It was just a month ago that the latest Washington spy scandal involving the very heart of the Israeli-Jewish Lobby had everyone buzzing. Then it faded from view as the corporate media moved on, as CBS News which originally broke the story found itself under assault, and as the election campaign and debates took center stage. Interesting, not one question from the PBS moderators about Israeli spying, nor even about the U.S. veto of the Security Council resolution condemning Israel, nor the International Court of Justice decision doing the same. Here's an update -- however inadequate -- from yesterday's L.A.Times. Though the real heart of the story should be AIPAC and the influence, tactics, and status of the Israeli-Jewish lobby; instead they focus on just the individual and not as they should on the large group of support persons and organizations. This should especially include, of course, the current cabal of largely Jewish neocons in top positions...including the one who hired Larry Franklin (Douglas Feith), and the ones who hired him (Paul Wolfowitz and Richard Perle).

AOL Blocks and Censors MER Articles
(October 6, 2004)
AOL is blocking and censoring MER articles because of pressures originating with Jewish and Israeli groups.

Emergency U.N. Security Council Meeting on Israel
(October 4, 2004)


The Springsteen 'Vote For Change' Concerts
(October 5, 2004)
"The press has let the country down. It's taken a very amoral stand, in that essential issues are often portrayed as simply one side says this and the other side says that. I think that Fox News and the Republican right have intimidated the press into an incredible self-consciousness about appearing objective and backed them into a corner of sorts where they have ceded some of their responsibility and righteous power." - Bruce Springsteen

Israel's Peacenik - Uri Avneri: Realities
(October 5, 2004)
"Uri Avneri, along with many Israelis and Jews, rightly fears that at some point Israel will be the direct target of blame for it's major contribution to having brought about such terrorism in the world and pushing the U.S. into invading Iraq. It is an understandable fear; for it is to a significant degree true."

Iraq is a "disaster...that will haunt the U.S. for decades" - Wall Street Journal Reporter
(October 2, 2004)
Iraq is a "disaster" that has deteriorated "into a raging barbaric guerilla war" that will haunt the United States for decades.

The Passion of the Bush
(October 2, 2004)
As the modern-day American-Israeli led Christian-Jewish crusade to remake the Middle East in the name of 'democracy and freedom' proceeds, this new documentary is telling indeed. It was first shown at the Republican Convention in New York a few weeks ago; and now, as a kind of Bush-loving counter to Fahrenhite 9/11, the DVD is being rushed out in advance of the upcoming election.

U.S. and Israel Prepare for Iran +
(October 1, 2004)
Even as the two branches of the American political establishment semi-debated last night who would fight the new wars better than the other, even as U.S. and Israeli battle tanks and attack aircraft bombed and killed in Iraq and Palestine worse than ever, preparations to either force compliance or attack Iran, Syria, Hezbollah (Lebanon), Hamas (Palestine), and North Korea soon after the American election are fast proceeding at the Pentagon and the CIA.