Email this article | Print this article | Link to this Article



If you don't get MER, you just don't get it!
10 November 2004
-
Middle
East
.Org
-

MER is Free
MER - We Never Stop Working For You!
News, Views, & Analysis Governments, Lobbies, & the
Corporate Media Don't Want You To Know



The most honest, most comprehensive, and most mobilizing news and




analysis on the Middle East always comes from MER.

It is indispensable!"


Robert Silverman - Salamanca, Spain



---
CHINA MAKES A BIG MOVE INTO
THE MIDDLE EAST
China Rocks the Geopolitical Middle East Boat
"The quantum leap of China into the Middle East
and Caspian energy markets has become a

fait accompli
, no matter how disturbed its
biggest trade partner, the US, over its
geopolitical ramifications."
MIDDLE

EAST

.ORG
- MER - Washington - 10 November: As the Americans expend their power, their money, their blood, and their credibility -- the miserable siege of Falluja and Iraq but the latest example -- both Europe and China are on the march. Europe is more often discussed, but the Chinese have been taking important steps into Africa in recent years, and now they are doing so into the Middle East in a bigger way than ever via Iran.
The world stage is becoming far more complicated far more quickly than is generally appreciated. With an economy expanding at an amazing 9% yearly, and in fact with considerable and growing leverage over the Americans economically and financially that is not usually discussed, China is positioning itself for the future
And Iran, seriously now threatened by the U.S.-Israeli alliance, is working with China, as well as with Europe, to outflank the Americans and in the short-term to buy itself more crucial time to strengthen and to have at least a credible deterrent.
With the U.S. and Israel determined to keep all combinations of regional powers from threatening their imperial dominance in the Middle East, the new involvements of both China and the Europeans are major developments sure to greatly affect the years ahead.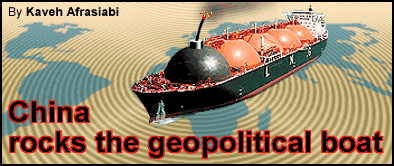 ASIA TIMES - 6 November 2004: TEHRAN

- Speaking of business as unusual. A mere two months ago, the news of a China-Kazakhstan pipeline agreement, worth US$3.5 billion, raised some eyebrows in the world press, some hinting that China's economic foreign policy may be on the verge of a new leap forward. A clue to the fact that such anticipation may have totally understated the case was last week's signing of a mega-gas deal between Beijing and Tehran worth $100 billion. Billed as the "deal of century" by various commentators, this agreement is likely to increase by another $50 billion to $100 billion, bringing the total close to $200 billion, when a similar oil agreement, currently being negotiated, is inked not too far from now.

The gas deal entails the annual export of some 10 million tons of Iranian liquefied natural gas (LNG) for a 25-year period, as well as the participation, by China's state oil company, in such projects as exploration and drilling, petrochemical and gas industries, pipelines, services and the like. The export of LNG requires special cargo ships, however, and Iran is currently investing several billion dollars adding to its small LNG-equipped fleet.

Still, per the admission of the head of the Iranian Tanker Co, Mohammad Souri, Iran needed to purchase another 87 vessels by 2010, in addition to the 10 already purchased, in order to fulfill the needs of its growing LNG market. Iran has an estimated 26.6-trillion-cubic-meter gas reservoir, the second-largest in the world, about half of which is in offshore zones and the other half onshore.

It is perhaps too early to digest fully the various economic, political and even geostrategic implications of this stunning development, widely considered a major blow to the Bush administration's economic sanctions on Iran and particularly on Iran's energy sector, notwithstanding the Iran-Libya Sanctions Act (ILSA) penalizing foreign companies daring to invest more than $20 million in Iran's oil and gas industry.

While it is unclear what the scope of China's direct investment in Iran's energy sector will turn out to be, it is fairly certain that China's participation in the Yad Avaran field alone will exceed the ILSA's ceiling; this field's oil reservoir is estimated to be 17 billion barrels and is capable of producing 300 to 400 barrels per day. And this is besides the giant South Pars field, which Iran shares with Qatar, alone possessing close to 8% of the world's gas reserves. To open a parenthesis here, until now Tehran has been complaining that Qatar has been outpacing Iran in exploiting its resource 6-1. In fact, Iran's unhappiness over Qatar's unbalanced access to the South Pars led to a discrete warning by Iran's deputy oil minister and, soon thereafter, Qatar complied with Iran's request for a joint "technical committee" that has yet to yield any result.

For a United States increasingly pointing at China as the next biggest challenge to its Pax Americana, the Iran-China energy cooperation cannot but be interpreted as an ominous sign of emerging new trends in an area considered vital to US national interests. But, then again, this cuts both ways, that is, the deal should, logically speaking, stimulate others who may still consider Iran untrustworthy or too radical to enter into big projects on a long term basis. Iran's biggest foreign agreement prior to this gas agreement with China was a long-term $25 billion gas deal with Turkey, which has encountered snags, principally over the price, recently, compared with Iran's various trade agreements with Spain, Italy and others, typically with a life-span of five to seven years.

Thus some Iranian officials are hopeful that the China deal can lead to a fundamental rethinking of the risks of doing business with Iran on the part of European countries, India, Japan, and even Russia. Concerning India, which signed a memorandum of understanding with Iran initially in 1993 for a 2,670-kilometer pipeline, with more than 700km traversing Pakistani territory, the Iran-China deal will undoubtedly give a greater push to New Delhi to follow Beijing's lead and thus make sure that the "peace pipeline" is finally implemented. The same applies, mutatis mutandis, to Russia, which has as of late been dragging its feet somewhat on Iran's nuclear reactor, bandwagoning with the US and Group of Eight (G8) countries on the thorny issue of Iran's uranium-enrichment program. The Russians must now factor in the possibility of being supplanted by China if they lose the confidence of Tehran and appear willing to trade favors with Washington over Iran. Russia's Gazprom may now finally set aside its stubborn resistance to the idea of entering major joint ventures with Iran.

Iran appears more and more interested to join the Shanghai Cooperation Organization (SCO) and form a powerful axis with its twin pillars, China and Russia, as a counterweight to a US power "unchained". The SCO comprises China, Russia, Tajikistan, Kazakhstan, Kyrgyzstan and Uzbekistan.

China, Russia and Iran share deep misgivings about the perception of the United States as a "benevolent hegemon" and tend to see a "rogue superpower" instead. Even short of joining forces formally, the main outlines of such an axis can be discerned from their convergence of threat perception due to, among other things, Russia's disquiet over the post-September 11, 2001, US incursions in its traditional Caucasus-Central Asian "turf", and China's continuing unease over the Korean Peninsula and Taiwan; this is not to mention China's fixed gaze at a "new Silk Road" allowing it unfettered access to the Middle East and Eurasia, this as part and parcel of what is often billed as "the new great game" in Eurasia. Indeed, what China's recent deals with both Kazakhstan (pertaining to Caspian energy) and Iran (pertaining to Persian Gulf resources) signifies is that the pundits had gotten it wrong until now: the purview of the new great game is not limited to the Central Asia-Caspian Sea basin, but rather has a broader, more integrated, purview increasingly enveloping even the Persian Gulf. Increasingly, the image of the Islamic Republic of Iran as a sort of frontline state in a post-Cold War global lineup against US hegemony is becoming prevalent among Chinese and Russian foreign-policy thinkers.

For the moment, however, the Iran-Russia-China axis is more a tissue of think-tanks than full-fledged policy, and the mere trade interdependence of the US and China, as well as Russia's growing energy ties to the US alone, not to mention its weariness over any perceived Chinese "overstretch", militate against a grand alliance pitted against the Western superpower. In fact, the Cold War-type alliances are highly unlikely to be replicated in the current milieu of globalization and complex interdependence; instead, what is likely to emerge in the future are issue-focused or, for the lack of a better word, issue-area alliances whereby, to give an example, the above-said axis may be inspired into existence along geostrategic considerations somewhat apart from purely economic considerations.

Hence what the SCO means on the security front and how significant it will be hinges on a complex, and complicated, set of factors that may eventually culminate in its expansion, from the current group of six, as well as greater, alliance-like, cooperation. It is noteworthy that in Central Asia-Caucasus, the trend is toward security diversification and even multipolarism, reflected in the US and Russian bases not too far from each other. In this multipolar sub-order, neither the US is capable of exerting hegemony, nor is Russia's semi-hegemonic sway without competition. In the Caspian Sea basin, for example, Kazakhstan has opted to take part in several distinct, and contrasting, security networks, including the North Atlantic Treaty Organization's Partnership for Peace program, the Commonwealth of Independent States' Collective Security Organization, the SCO, and membership in OSCE (Organization for Security and Cooperation in Europe).

Kazakhstan is not, however, an exception, but seemingly indicative of an expanding new rule of the (security and strategic) game played out throughout Central Asia-Caucasus. Economically, both Kazakhstan and Russia are members of the Central Asia Economic Cooperation Organization, and all the Central Asian states are also members of the Economic Cooperation Organization (ECO), which was founded by the trio of Iran, Turkey and Pakistan. Certain economic alliances are, henceforth, taking shape, alongside the budding security arrangements, which have their own tempo, rationale and security potential. Concerning the latter, in 1998, the ECO embarked on low security cooperation among its members on drug trafficking and this may soon be expanded to information-sharing on terrorism. Also, Iran has also entered into low security agreements with some of its Persian Gulf neighbors, including Saudi Arabia and Kuwait.

The SCO initially was established to deal with border disputes and is now well on its way to focusing on (Islamist) terrorism, drug trafficking and regional insecurity. Meanwhile, the US, not to be outdone, has been sowing its own bilateral military and security arrangements with various regional countries such as Azerbaijan, Tajikistan, Kyrgyzstan and Uzbekistan, as well as promoting the Guuam Group, which includes Azerbaijan and Georgia, formed alongside the BTC (Baku-Tiblisi-Ceyhan) pipeline as a counterweight to Russian influence. Consequently, the overall picture that emerges before us is, as stated above, a unique multi-trend of military and security multipolarism defying the logic of Pax Americana. In this picture, Iran represents one of the poles of attraction, seeking its own sphere of influence by, for instance, entering into a military agreement with Turkmenistan in 1994, and, simultaneously, exploring the larger option of how to coalesce with other powers in order to offset the debilitating consequences of (post-September 11) unbounded Americanization of regional politics.

A glance at Chinese security narratives, and it becomes patently obvious that Beijing shares Iran's deep worries about US unipolarism culminating in, as in Afghanistan and Iraq, unilateral militarism. Various advocates of US preeminence, such as William Kristol, openly write that the US should "work for the fall of the Communist Party oligarchy in China". Unhinged from the containment of Soviet power, the roots of US unilateralism, and its military manifestation of "preemption", must be located in the logic of unipolarism, thinly disguised by the "coalition of the willing" in Iraq; the latter is, in fact, as aptly put by various critics of US foreign policy, more like a coalition of the coerced and bribed than anything else.

But, realistically speaking, what are the prospects for any regional and or continental realignment leading to the erasure of US unipolarism, notwithstanding the US military and economic colossus bent on preventing, on a doctrinal level, the emergence of any challenger to its global domination now or in the future? The strategic debates in all three countries, Russia, China and Iran, feature similar concerns and question marks. For one thing, all three have to contend with the difficulty of sorting the disjunctions between the different sets of national interests, above all economic, ideological and strategic interests. This aside, a pertinent question is who will win over Russia, Washington, which pursues a coupling role with Moscow vis-a-vis Beijing, or Beijing, trying to wrest away Moscow from Washington? For now, Russia does not particularly feel compelled to choose between stark options, yet the situation may be altered in China's direction in case the present drift of US power incursions are heightened in the future. The answer to the above question should be delegated to the future. For now, however, the quantum leap of China into the Middle East and Caspian energy markets has become a fait accompli, no matter how disturbed its biggest trade partner, the US, over its geopolitical ramifications.

Kaveh L Afrasiabi, PhD, is the author of After Khomeini: New Directions in Iran's Foreign Policy (Westview Press) and "Iran's Foreign Policy Since 9/11", Brown's Journal of World Affairs, co-authored with former deputy foreign minister Abbas Maleki, No 2, 2003. He teaches political science at Tehran University.


---
MID-EAST REALITIES - www.MiddleEast.Org

Phone:
(202) 362-5266
Fax:
(815) 366-0800
Email:
MER@MiddleEast.Org
Copyright © 2004 Mid-East Realities, All rights reserved
---
November 2004



Condi Rice - Weakest and Worst Sec State in Washington Memory
(November 29, 2004)
"So we are to have a new Secretary of State who dreadfully misjudged the terrorist threat leading up to 9/11 and then misled America and the world about the case for invading Iraq. As if that's not disturbing enough, look who is succeeding her as the President's National Security Adviser... I'm not making this up; it's all on the record. So instead of putting America's foreign policy in the hands of people who might have restored the country's credibility in the world, the President has turned it over to two of the people who helped to shred it." -Bill Moyers

US in Iraq 'worse than Hitler'? Turkish Parliament Leader Has His Say
(November 28, 2004)
"The occupation has turned into barbarism. The U.S. administration is committing genocide...in Iraq. "This occupation has entirely imperialist aims." - Mehmet Elkatmis, Head of Tukish Parliament's human rights commission

Islamabad 25 Years Ago Was Forecast of What Has Since Come
(November 27, 2004)
Twenty-five years ago, as hate-filled crowds invaded the American Embassy in Islamabad and the 100+ Americans hiding in 'The Vault' feared they would be killed, there was already in the air of international affairs an omen of what was to come. What happened then has since politically metasticized into what is happening today, an escalating 'Clash of Civilizations' with the United States doubly tinged with fundamentalist Crusading zealotry and Israeli Zionist ideology. And the hatreds, despair, and sense of grievance in many places in the world, including today's Pakistan, are still growing....

Washington's War-Mongering Military-Industrial-Government Complex
(November 27, 2004)
They could have sub-titled this excellent 48 minute Dutch documentary "Cesspool Washington" for it exposes a significant aspect of how the American capital has incestuously and unethically entertwined big business, big money, and government. Exposed in this documentary is a major part of the U.S. war-making and war-profiteering scene of which few Americans are aware. These realities goe a long way to explain how and why U.S. war policies are what they are.

The CIA's TORTURE AIR
(November 26, 2004)
Witnesses have claimed that the suspects are frequently bound, gagged and sedated before being put on board the planes,

CIA Purge Converting Agency To Neoconism
(November 25, 2004)
They already have firm control of the Pentagon, which also actually means some 80% of the "Intelligence" Budget. And they've made great progress in recent years taking over the State Department as well as the National Security Council. Now crusading "Neocons" -- many Jewish and nearly all connected over the years with the Israeli-Jewish lobby in Washington -- are determined to finally bring the last resistant power center, the CIA, into line. Washington these days is like the land of the body-snatchers, everyone looking over their shoulders, the fear factor rising higher and higher.

Falluja in Memorium on Thanksgiving
(November 25, 2004)
As for the new killing fields of Iraq -- most recently in Falluja, the 'City of Mosques' -- the alternative-media reports that follow from Green Leaf Weekly in Australia and The Village Voice in New York make for devastating reading. "Sorry Faluya"..."Sorry Faluya"...

January Elections - Truth or Consequences
(November 25, 2004)
Under the conditions that actually exist -- unprecedented military occupation, extraordinary impoverishment and bribery, still-expanding CIA infiltration, massive propaganda manipulation -- the very concept of 'free and fair' elections takes quite a credibility stretch.

New from MER
(November 22, 2004)
New from MER - MER realizes that today situation in the Middle East and in Washington requires new and creative means to provide critical information and independent expert analysis. But this can only be achieved if those who appreciate today's historical moment will dig in and provide the independent financial support necessary. Please make your check to MER and contribute today. MER P.O. Box 4918 Washington, DC 20008

Fearing Bush Assassination
(November 22, 2004)
Over the weekend during Bush's short visit to Chile there was an extraordinary double display of this concern. First Bush himself got man-handled in a crowd of security people literally having to pull his senior protective body man after him through a small blocking crowd of Chilean security. Later the elaborate State Dinner the Chilean President was putting on was abruptly canceled when the American's demanded that every one of the two hundred carefully selected guests go through metal detectors and possible body frisks. The Chileans said not very dignified, no need; the Americans said too bad, no dinner.

Please read and contribute this weekend, thank you.
(November 21, 2004)
If MER is to move forward and have the kind of impact we can and should now have, independent financial support is now absolutely crucial. After all the steps we have taken in recent years to reorganize and improve MER, serious financial support is now the key missing ingredient we must have. Yes we are now positioned to reach far more persons worldwide and to have far greater impact including on radio and TV programs. But this can happen only with your substantial financial support. So please contribute this weekend making your check to MER and sending to: MER P.O. Box 4918 Washington, DC 20008

Israel Buys Another Piece of Washington
(November 20, 2004)
Read the details about Haim Saban, Ariel Sharon's "close personal friend", keeping all this crucial perspective and context in mind which the nation's 'newspaper of record' largely ommitted.

Please read and contribute this weekend
(November 20, 2004)
If MER is to move forward and have the kind of impact we can and should now have, independent financial support is crucial. After all the steps we have taken in recent years to reorganize and improve MER, financial support is now the key missing ingredient if we are to be able to take the steps we now could. We are now positioned to reach far more persons worldwide and to have far greater impact including on radio and TV programs. But this can happen only with your serious financial support. So please contribute this weekend making your check to MER and sending to: MER - P.O. Box 4918 - Washington, DC 20008

Yasser Arafat's Life and Legacy
(November 19, 2004)
There are only a small handful of Western journalists who have the background, the credibility, and the conviction, to write with historical depth and considerable insight about the death of Yasser Arafat. David Hirst, still writing for The Guardian after all these years, the man who authored THE GUN AND THE OLIVE BRANCH, is right up there at the top of that list. This article was published in The Guardian last week just as Arafat's death was announced.

Nuke Attack on U.S. 'all but inevitable' warns top CIA official
(November 19, 2004)
As the new historic purge of non-neocons roles over Washington, firing, resignations, and fear have the CIA, the State Department, and lesser known sometimes secret U.S. Government agencies in a tizzy. One of those now forced out at the CIA is the man who has headed up the great manhunt for Osama Bin-Laden. He spoke up last year in a book written by 'Anonymous' titled "Imperial Hubris: Why the West is Losing the War on Terror." Just days after leaving the Agency he spoke up on the popular CBS News Program Sixty Minutes.

U.S. and ISRAELI Deceptions...over and over again
(November 18, 2004)
Even as Yasser Arafat was being buried last Friday the American President and the British Prime Minister purposefully tried to immediately dim his memory and twist the headlines by holding an unusual joint press conference at the White House. What Bush and Blair spewed forth grabbing TV time that evening from Arafat's Cairo funeral and Ramallah burial twisted and distorted history further beyond recognition. This extraordinary and urgently needed corrective was published by Robert Fisk earlier this week in The Independent.

More on the Arafat 'Stealth Assassination' and Cover Up
(November 17, 2004)
With the 'Stealth Assassination' of Yasser Arafat, following a campaign to kill or imprison most of the popular Palestinian leaders that was greatly stepped up when Ariel Sharon became Israeli Prime Minister, the Arab-Israeli conflict does indeed enter a new phase. But the political cancer has already considerably metastacized region-wide and the 'two-state' cure is not really any longer possible.

The Great Sharon Deception
(November 16, 2004)
"Deception and lies have been a corner stone in Israeli policy, brought to a new level of perfection since Oslo. While the world believed that Rabin promised to eventually end the occupation and dismantle the settlements, the number of Israeli settlers actually doubled during his rule. At the same time that Barak declared he intends to dismantle the Golan Heights settlements, in 1999, he actually poured money into their expansion. As Sharon promised to dismantle at least the illegal settlement posts in the West Bank, their number kept increasing. Still, none of this is ever remembered. Each new lie is received with welcome cheers by the Israeli peace camp, and by European governments. Since Oslo, every Israeli government knows that all it takes, to ease diplomatic pressure, is to come up with a new 'peace plan'."

To Readers of MER
(November 16, 2004)
If MER is to move forward and have the kind of impact we now can and should have financial support making it possible to do so is now the key missing ingredient. We have done so much in recent years. And now we are positioned to reach far more persons worldwide and have far greater impact including on radio and TV programs. Please contribute today making your check to MER and sending to: MER - P.O. Box 4918 - Washington, DC 20008

Powell Out, CIA Purging, Iraq Exploding, Palestinians Erupting
(November 15, 2004)
Just hours after once again fronting for U.S. Middle East policies as today's article in The Guardian points out; just hours, after proclaming about the 'new Palestinian leaders' "We know these gentlemen well, and I hope to be able to see them..."; just hours after the extent of the historic purge of the CIA has flashed into the headlines...; Colin Powell has cashed in his chips in a combination of being pushed and walking away while he still can without even further damage to his once considerable reputation.

ARAFAT - The Assassination and The Cover Up
(November 13, 2004)
Five critical days before it was officially announced that Yasser Arafat was actually dead -- even as leading media organizations were repeatedly parroting officials to the contrary -- MER not only reported the real news that Arafat was all but legally dead but the important news that he had been 'Stealth Assassinated' by blood poisoning by the Israelis. Below are links to MER articles published from 4 to 12 November about the assassination of Yasser Arafat and the cover up that followed.

Israel's Public Threats Against Arafat Telegraphed the Assassination
(November 13, 2004)
These are some of the public threats in the past few years. One can only imagine what has been said when the cameras and microphones were not present.

Sharon's Lethal Words and Cartoons Foretold what was to come
(November 13, 2004)
"Speaking of the Palestinians, they were dealt a lethal blow... It will bring their dreams to an end." -- Ariel Sharon upon returning from his ninth and last meeting at the White House with George W. Bush - 16 April 2004

Public Israeli Threats from top officials to Kill Yasser Arafat
(November 12, 2004)
Public Israeli Threats from top officials to Kill Yasser Arafat escalated in recent months. In any murder investigation, or death under suspicious circumstances, an autopsy is done and those who have threatened the person are investigated. But in the case of Yasser Arafat even though his personal doctor of over 20 years 'demanded' an 'official death investigation' and 'autopsy' those in charge worked feverishly to bury Arafat quickly and prevent any serious independent investigation.

NYTimes Articles on Arafat - 1 to 12 Nov 2004
(November 12, 2004)
New York Times Articles on Yasser Arafat 1 to 12 November 2004

ARAFAT Assassination Coverup as quick and limited funeral and burial take place
(November 12, 2004)
They are racing now to get the funeral over with very quickly and with no real opportunity for the public outpouring of grief and anger that would result if everything were not so closed and controlled by the military. And they are racing as well to get him quickly buried in a rock tomb. His 'wife' has received a huge payoff, $22 million yearly, for her silence. The top 'new leadership' of the Palestinians that has approved these arrangements are all known to be persons closely connected with the Israelis and supported by the U.S. -- Nabil Sha'ath, Abu Mazen, and Abu Ala -- and all known themselves to be politically and financially corrupt.

ARAFAT ASSASSINATION - Article links, Media Interviews
(November 12, 2004)
The personal physician of Yasser Arafat called for an inquiry into the cause of the veteran Palestinian leader's death on Thursday. "I demand an official inquiry and an autopsy ... so the Palestinian people can learn in all transparency what caused the death" of their leader, Dr Ashraf al-Kurdi said on Al-Jazeera television only hours before Arafat was due to be buried... Kurdi, who was Arafat's personal physician for more than 20 years, said he had been surprised by the actions of some members of the veteran leader's office... Yasser Arafat's 'wife' Suha will receive $22 million a year out of the Palestinian Authority budget. Abu Mazen is said to have personally approved this extraordinary arrangement, and it appears to have silenced Suha Tawil from the 'conspiracy' charges she publicly made Monday.

MER on KTSA San Antonio
(November 11, 2004)
Listen to MER on KTSA San Antonio about Arafat's Death; and check links to the past week's MER articles about Arafat.

MER and Media Articles about Arafat on day of his death
(November 11, 2004)
"I demand an official inquiry and an autopsy ... so the Palestinian people can learn in all transparency what caused the death" of their leader, Dr Ashraf al-Kurdi said on Al-Jazeera television only hours before Arafat was due to be buried... Kurdi, who was Arafat's personal physician for more than 20 years, said he had been surprised by the actions of some members of the veteran leader's office.

Sharon Kills Arafat? Assassination Coverup Succeeds?
(November 11, 2004)
The message is rather clear: "You Arab and Palestinian 'leaders' have much more to fear from us (Israel and the U.S.) if you don't play ball than you do from your own people. On top of all the other leaders we have killed off or imprisoned one way or another, we can even pull off a 'Stealth Assassination' of Nobel Peace Prize winner, former most frequent foreign guest to the White House, and international famed Yasser Arafat because he refused to do as we told him he must. So beware: COMPLY, RESISTANCE IS FUTILE."

ARAFAT - Assassination Covered Up As Death Announced
(November 11, 2004)
**MER was first, was right, was most insightful** Days before it was finally officially announced early this morning in the Middle East MER reported that Yasser Arafat was all but legally dead. Even as leading media organizations were parroting contrary and purposefully deceptive information MER not only reported the real news but the important realities. In this case that Yasser Arafat had been 'Stealth Assassinated' by the Israelis with help from as yet undisclosed Palestinians and an American OK.

ARAFAT - How and Where to Properly Bury Him
(November 10, 2004)
And when Arafat's body is flown from Cairo to Ramallah representatives of the Arab League, of all the Arab countries, and of all the countries who have long recognized the PLO and long called for a free and independent Palestinian State, should accompany the body whether the Israelis give their 'permission' or not. They should in this way not only show their respects for Arafat the symbolic man but for the imprisoned and all-too-forgotten people he leaves behind, half in refugee camps, half increasingly behind walls and fences in ghettos and concentration camps.

ARAFAT Update
(November 10, 2004)
Yasser Arafat has been all but legally dead for many days now. He has been kept 'between life and death' in a very 'complex situation' (to use the crafty words that have come from key officials) for financial and political reasons rather than for medical reasons. By a preponderance of the circumstances and the evidence Yasser Arafat has effectively been stealth assassinated by the Israelis as MER first reported and explained last Saturday.

China Rocks the Geopolitical Middle East
(November 10, 2004)
As the Americans expend their power, their money, their blood, and their credibility both Europe and China are on the march. Europe is more often discussed, but the Chinese have been taking important steps into Africa in recent years, and now they are doing so into the Middle East in a bigger way than ever via Iran.

Arafat's Death Announced
(November 9, 2004)
MER reported and explained Arafat's death -- indeed his assassination by blood poisoning -- many days ago, in fact last week. This story from Reuters has just moved on the international wires this morning at 9am EST:

Poor Poor People of Palestine
(November 9, 2004)
This is hardly the first time MER has commented harshly and candidly about Nabil Shaa'th, or Abu Mazen, or Abu Ala. We have in fact done so for years now as upcoming FlashBack articles will serve to remind. As for Suha Tawil, Arafat's "wife", she has proven time and again what a self-serving extortionist and political witch she has truly been -- taking after her mother Ramonda who managed to steal and embezzle more limited millions from the PLO in her own days before introducing her dumpy daughter to Yasser and moving from Palestine to her luxury-life in exile.

MiddleEast.Org on ARAFAT LIFE and DEATH
(November 8, 2004)
PLEASE FORWARD TO FRIENDS AND CONCERNED PERSONS. AVAILABLE TODAY AT MIDDLEEAST.ORG THIS EXCLUSIVE INTERVIEW and EDITORIAL ABOUT THE DEATH OF YASSER ARAFAT.

Arafat is Dead - Frantic struggles underway
(November 7, 2004)
Yasser Arafat is Dead; likely assassinated by blood poisoning by the Israelis. Frantic struggles and manuevers are underway for power, money, and the symbolism of how and where Arafat will be buried. Arafat's long-time cronies neither of whom has any real popular support but who are trying to take total control of the PLO and the PA with Israeli and U.S. assistance -- Abu Mazen and Abu Ala -- are on the way to Paris.

ARAFAT - How and Where to Bury Him
(November 7, 2004)
Far better symbolism than burial under the dictate of Israeli military occupation and today's apartheid conditions is 'temporary' burial of Yasser Arafat in the city where the headquarters of the Arab League is located, indeed in a special crypt on the grounds of the Arab League in downtown Cairo.

Arafat's Murder and Legacy
(November 7, 2004)
It's the worst possible end for Yasser Arafat, and more importantly for his life-long quest for justice, dignity, and a free independent Palestinian State. In the end it appears Yasser Arafat has been killed by fatal poisoning in a kind of stealth assassination by his arch nemesis Ariel Sharon, with help from those inside his own circles. Arafat passes from history not as the father of a Palestinian State but with his people more fractured and dispossessed and in greater bondage, imprisonment, and impoverishment than ever in their history.

ARAFAT - Stealth Assassination!
(November 6, 2004)
Arafat was assassinated by blood poisoning by the Israelis working with some insiders is the conclusion of Professor Hisham Ahmed... Professor Ahmed lives in Ramallah near the headquarters where Arafat was under house imprisonment for nearly three years. He teaches Political Science at Bir Zeit University and has his Ph.D. from the University of California at Santa Barbara. He has taught at a number of American Universities and been a Fulbright Scholar. Dr. Ahmed was born in Deheishe Refugee Camp near Bethlehem and he is an astute observer of Palestinian affairs and indeed of international affairs.

MER Experts on Arafat's Death (or assassination), Burial Plans, and Legacy
(November 5, 2004)
Please pass this information on to persons in the media. Bruzonsky, Hamzeh, and others associated with MER including Palestinians living in occupied Palestine will be available throughout the weekend for radio and TV interviews. The link to this email is: http://www.middleeast.org/articles/2004/11/1174.htm MER can now be reached at all times, 24-hours daily, at MER@MiddleEast.Org and (202) 362-5266. Persons in the media can reach MER at all times on a special media number -- 202 Number1 (202 686-2371) and Press@MiddleEast.Org

Arafat's Burial, Monies, Powers, and Legacy
(November 5, 2004)
"Both Gaza Ghetto and Occupied Ramallah are awful choices for Arafat's burial, especially in view of the worse than Apartheid realities that have taken hold during the years Arafat played, and lost so badly, the 'peace process' game with the Israelis and the Americans."

About MiddleEast.org
(November 4, 2004)
Please read carefully and please help make MiddleEast.Org possible.

Arafat Dominates In Death as in Life
(November 4, 2004)
Arafat is now likely to be buried not in a free Palestine, not in Jerusalem, not really as the kind of historic figure he so desperately sought to be. Rather he will be likely buried in Occupied Palestine, in the city of Ramallah, behind the new Apartheid Wall, with arch nemesis Ariel Sharon deciding on the place and giving his 'permission'. How sad...how tragic... And the future now on the horizon appears still more gloomy and more bloody than the past now about to be symbolically buried with the body of the single man who has dominated Palestinian history ever since the founding of the Palestine Liberation Organization in the 1960s.

America, Arafat, and the 'New World Order'
(November 4, 2004)
NBC's Chris Matthews: "I believe we live in a country that is really culturally divided now... maybe the way Pakistan and India are."

Democratic Disaster
(November 3, 2004)
Even as Americans voted and the world watched considerably now in shock, one of the world's most famous scientists, Stephen Hawking, was declaring the U.S. invasion of Iraq a 'war crime' at a protest in London. Now the aftermath of that history-making invasion, of the new Crusade led by the United States and based on major historic deceptions and manipulations, will return to center stage.

Moral Cowards ALL
(November 2, 2004)
Scott Ritter's "The War on Iraq has made Moral Cowards of us all" article should have appeared in the U.S., rather than in The Guardian in the U.K. The article about more mega-billions for the Iraq war did appear in the U.S., on the front-page of The Washington Post last Monday.

Osama Votes Bush Says Fisk
(November 2, 2004)
Robert Fisk is the chief Middle East correspondent for the London Independent and one of the most knowledgeable, insightful, and courageous western journalists about the Middle East. He was exclusively interviewed in 1996 by MERTV for a series of four half-hour programs which we will soon Internet broadcast. He was interviewed yesterday on the 'Democracy Now' program about the recent speech by Osama Bin Laden to the 'people of America', about Yasser Arafat, and about the war in Iraq.

Osama Bin Laden's 'October Surprise'
(November 1, 2004)
Osama Bin Laden: "I am amazed at you. Even though we are in the fourth year after the events of September 11th, Bush is still engaged in distortion, deception and hiding from you the real causes. And thus, the reasons are still there for a repeat of what occurred. So I shall talk to you about the story behind those events and shall tell you truthfully about the moments in which the decision was taken, for you to consider."

Iran Next - Part 2
(November 1, 2004)
Tomrrow the American election itself will become history. The likelihood is the Bush/Cheney/neocon regime will remain in power; hard as that still is for so many to imagine and understand. But should the Democrats win the White House Middle East policies will be largely in the hands of the neoliberals and the super money-men like Israeli-Sharon-connected Haim Saban who have far more in common with the neocons than has yet been realized by many who will vote for them. Whatever happens tomorrow the build-up to attacking and if at all possible 'regime changing' Iran is well underway and the showdown increasingly imminent.