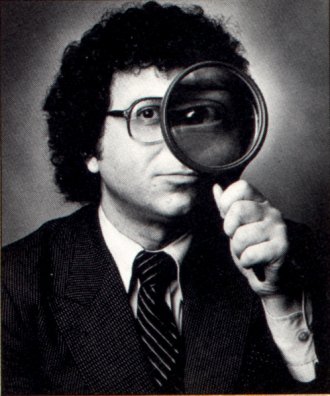 MARK A. BRUZONSKY


"I've never heard anyone who has made this stuff as clear as you... It was
like somebody had just opened the windows and the light came pouring in."


- Keith Morrison, "CANADA AM" Host (now Dateline NBC)

commenting on guest Mark Bruzonsky


Mark Bruzonsky holds dual advanced degrees in international affairs and law from the Woodrow Wilson School of Public and International Affairs at Princeton University (M.P.A.) and from New York University School of Law (J.D.) where he was a Root-Tilden Scholar. During his graduate school years Bruzonsky was Chief Representative to the United Nations of the International Student Movement for the United Nations (ISMUN) traveling to 35 countries.

Office:

202 362-5266

Direct:

202 686-2372

Fax:

815 366-0800

Reach

Mark Bruzonsky

using SKYPE

See also

:

Info

Articles

Blog

Email:

Mark@Bruzonsky.com
Shows Skype Status





Click for video clips of Network TV programs and on Canadian National TV throughout the historic White House signing ceremony with Yasser Arafat, Yitzhak Rabin, and Bill Clinton.

Bruzonsky is today the publisher of MiddleEast.org and Washington Associate of Goals for Americans. He freqently writes and speaks about U.S. foreign policy, the Middle East, and U.S.-Israeli relations.

In the past Bruzonsky was Associate Editor of WORLDVIEW MAGAZINE in New York and Interview Editor of THE MIDDLE EAST MAGAZINE in London. He was Washington Representative of The World Jewish Congress from 1977 to 1984 as well as Special Assistant to Philip M. Klutznick -- the most senior Jewish leader in the country at the time. Philip Klutznick was uniquely President of both B'nai B'rith International as well as the World Jewish Congress and he was Secretary of Commerce for the last two years of the Carter Administration.
Bruzonsky has been a consultant on the Middle East for a number of prestigious organizations including Congressional Quarterly (CQ), The National Geographic Society, Okaz Organization for Press and Publications in Saudi Arabia, and The Woodrow Wilson International Center for Scholars at the Smithsonian where he published the book SECURITY IN THE MIDDLE EAST; REGIONAL CHANGE AND GREAT POWER STRATEGIES. His previous book, THE MIDDLE EAST, U.S. POLICY, ISRAEL, OIL, AND THE ARABS was published by CQ; and he was special Middle East consultant for an educational film-strip series titled THE MIDDLE EAST published by the National Geographic Society.
In these many and varied capacities Bruzonsky has made over 150 visits to countries in the greater Middle East region from Libya to Pakistan. He has been the official guest of a number of governments and organizations in numerous countries including Egypt, Jordan, Israel, Lebanon, the PLO, Tunisia, Libya, Saudi Arabia, Sudan, Syria, Nigeria, Ethiopia, and Pakistan.
Early in his career, in November 1977, Bruzonsky made world headlines when he personally arranged with Egyptian President Anwar Sadat for the sending of the first public telegram from the Arab world to Israel. A picture of Bruzonsky meeting with Sadat appeared on the front page of many Egyptian newspapers. The previous year Bruzonsky was the subject of a column by Washington Post Editor Steven Rosenfeld who singled him out for his insightful commentaries regarding U.S. policies toward the Middle East and the Arab-Israeli conflict.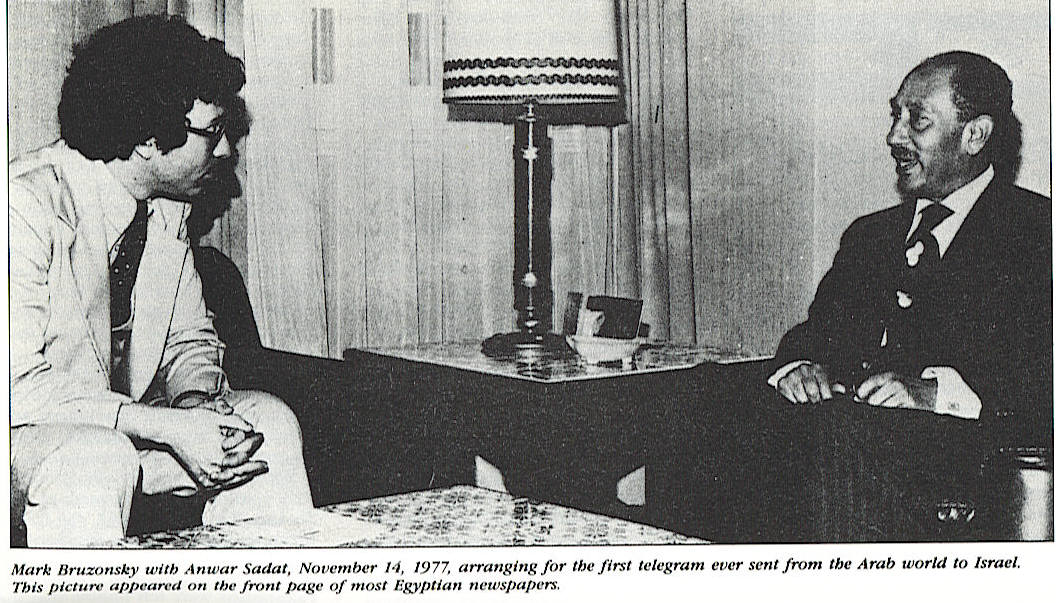 Again in 1982 Bruzonsky made world headlines when he authored "The Paris Declaration" which was published on page1 of LeMonde with a full top-of-page banner headline. This historic statement was uniquely signed by Nahum Goldman (founder of both the World Jewish Congress and the World Zionist Organization), Philip Klutznick (former U.S. Secretary of Commerce and President of both the World Jewish Congress and B'nai B'rith International), and Pierre Mendes-France (former President of France) -- three of the world's most senior and respected Jewish leaders at the time. In their response to this historic statement Yasser Arafat and the PLO Representative in Europe Dr. Isam Sartawi considered this 'Paris Declaration' at the time to be a Balfour Declaration for the Palestinian people that would hasten the creation of an independent Palestinian State and lead to a general Middle East peace between Israel and the Arab States..
From 1982 through 1994 Bruzonsky wrote a regular weekly newspaper column, "From Washington", that was published in a number of leading newspapers in the Middle East including Al-Ahram in Egypt, Ad-Dustour in Jordan, and Okaz in Saudi Arabia. And from 1988 through 1995 Bruzonsky was Chairperson of the Jewish Committee On the Middle East, an organization of Jewish intellectuals and academics which was at the time a leading outspoken voice for new U.S. policies in the Middle East (see JCOME.org).
In 1989 Bruzonsky was invited to be part of a special year-long panel of experts organized by the Middle East Institute and The Atlantic Council which resulted in the publication of a special report, Western Interests and U.S. Policy Optons in the Middle East. Bruzonsky wrote the only major dissent published in the report.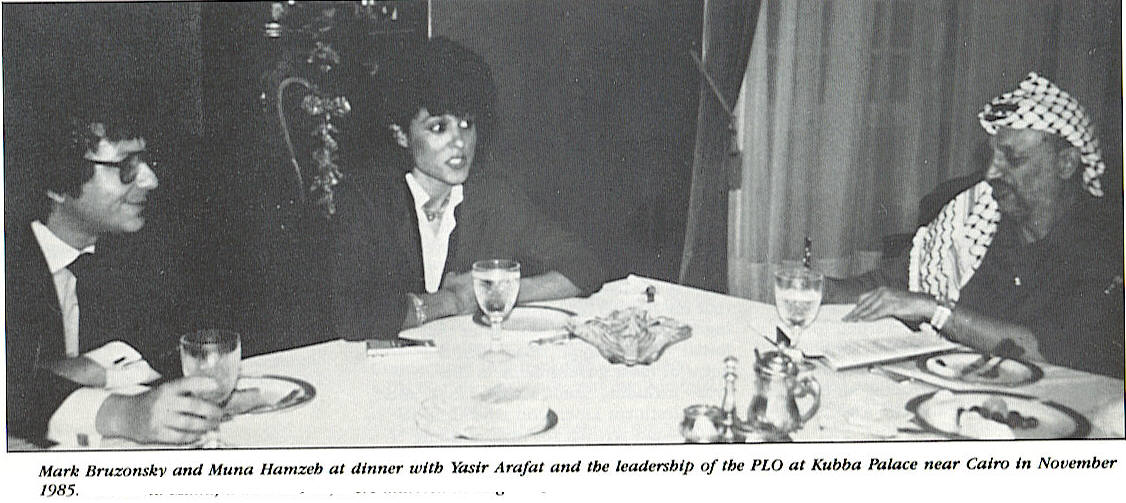 In 1995 Bruzonsky was one of a select group of ten Middle East experts featured in a special multimedia CD about the Israeli-Palestinian conflict and the "peace process," titled LINES IN THE SAND, published by Tiger Media in Canada.

From 1996 through 2004 Bruzonsky was the producer and host a weekly TV Program that was broadcast on all the major cable systems in the greater Washington, DC area as well as for some years in New York and Philadelphia.

Bruzonsky has lectured at many universities and public affairs organizations; and was twice invited to lecture about the Middle East at the U.S. Army War College in Carlysle, Pennsylvania. He has been a guest on many TV and radio programs including The Donahue Show, C-Span, FOX News, NBC, Close-Up, BBC, CBC, and Voice of America. During the historic White House signing ceremony with Yitzhak Rabin, Yasser Arafat, and Bill Clinton Bruzonsky provided the live commentary for Canadian National Television (CTV).
Bruzonsky's written articles and extensive interviews with key figures including former U.N. Secretary-General Boutros Boutros-Ghali, Israeli Foreign Minister Shimon Peres, Yasser Arafat, Edward Said, Noam Chomsky, and other leading political and intellectual personalities have appeared in more than 35 magazines and newspapers throughout the U.S., Europe, Israel, and the Arab world.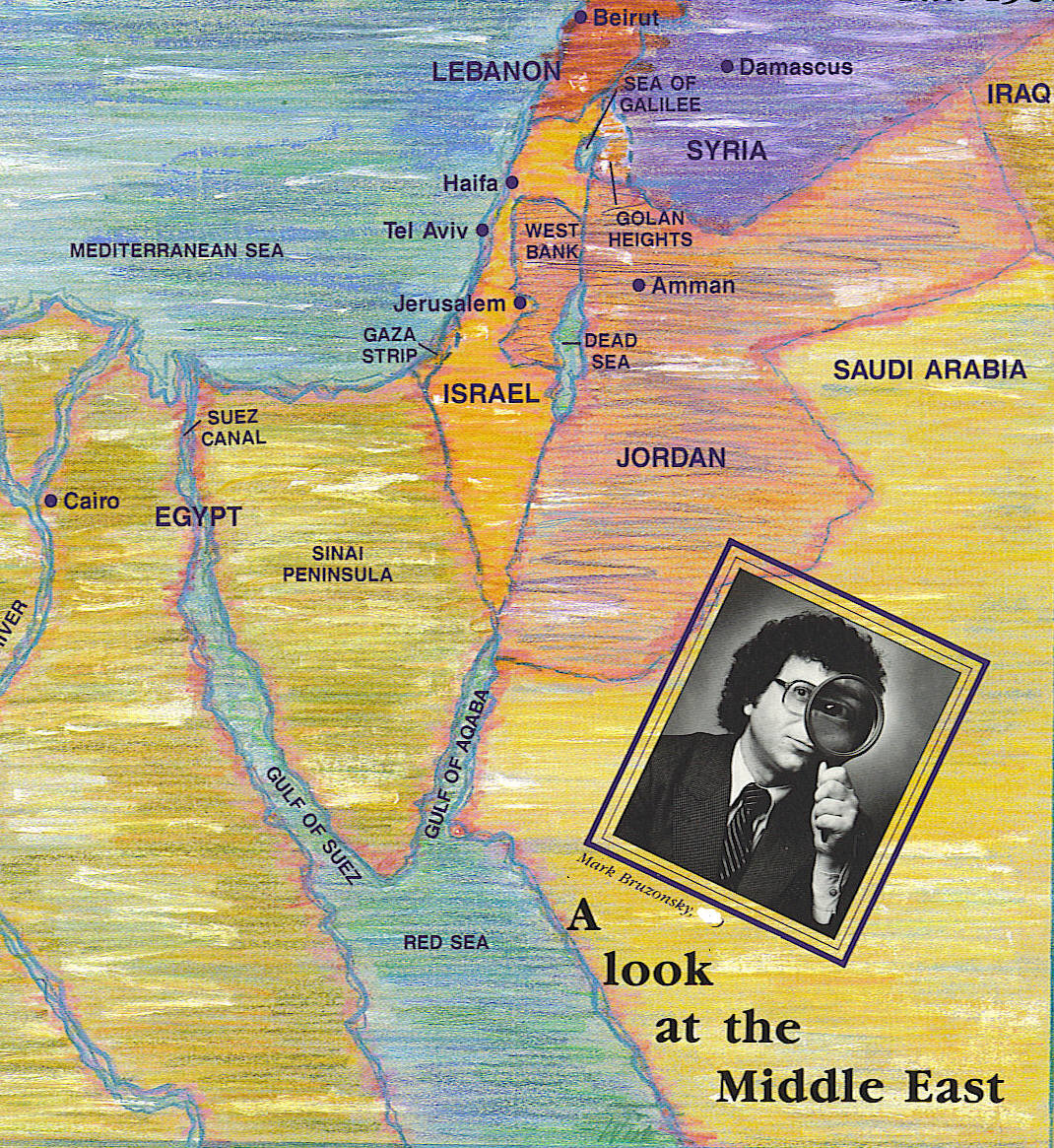 ---
Major Publications & Media:
"WAR OF THE WORLDS" - PLAYBOY Magazine (Slovenia), October 2001
LINES IN THE SAND, a multi-media CD about the Middle East (one of 10 special experts included on video), Tiger Media (Canada) - 1995.
LET US RETHINK OUR SPECIAL RELATIONSHIP WITH ISRAEL, Editor and author of Introduction, Prof. Charles Black, The Jewish Committee On The Middle East (JCOME) - 1990.
SECURITY IN THE MIDDLE EAST: REGIONAL CHANGE AND GREAT POWER STRATEGIES, Co-Editor with Deputy Director of Woodrow Wilson International Center for Scholars at the Smithsonian, WestView Press - 1987.
THE MIDDLE EAST - Special consultant on the Middle East for this 5-part educational film-strip series, National Geographic Society - 1985.
THE MIDDLE EAST; U.S. POLICY, ISRAEL, OIL, AND THE ARABS (3rd Ed.), Editor and author of Introduction, Congressional Quarterly (Washington) - 1977.
A UNITED STATES GUARANTEE FOR ISRAEL? Georgetown University Center For Strategic and International Studies (CSIS, Washington) - 1977.
Click here for complete list of published articles - 4 pages.,



Publications in which feature articles written by Mark Bruzonsky have been published:

USA PUBLICATIONS:
Atlanta Constitution Journal
Boston Globe
CSIS Reports
Chicago Tribune
Christian Science Monitor
Commonweal Magazine

Dissent Magazine

Los Angeles Times
Los Angeles Weekly
International Security (Harvard)
Middle East Journal
Moment Magazine

The Nation
The National Jewish Monthly
The New Renaissance
Newsday
Palestine Perspective
Politicks
Sacramento Bee
The Washington Post
The Washington Star
Worldview Magazine

.
.
INTERNATIONAL PUBLICATIONS:

Al-Biyader Al-Siyyaseh (Jerusalem)
Ad Dustour (Amman)
Al Ahram (Cairo)
Al-Siyassah (Kuwait)
Contemporary Review (London)
Events (London)
Haolam Hazeh (Tel Aviv)
International Affairs (London)
The Muslim (Islamabad)
International Problems (Tel Aviv)
The Jerusalem Star (Amman)
Israel & Palestine (Paris)
Journal of Palestine Studies (Beirut)
Middle East International (London)
New Outlook (Tel Aviv)
Okaz (Jeddah)
Playboy Magazine (Slovenia)
Rose El Yusef (Cairo)
The Middle East (London)
The Saudi Gazette (Jeddah)
No War (Gentosha Publishing, Japan)