Flashback MER Articles

June 29, 2004
Brits Departed Palestine Leaving Civil War - MER FlashBack
"Contrary to contemporary assertions, the British and the Americans have done far more to prevent democracy in the Middle East, and to inhibit independent economic development as well, then they will ever admit."

Listen to this 20-minute radion discussion on a Toronto Radio Program which was live on 5 November 2004.



December, 2001
Lies About "Peace" and a "Palestinian State" - Then and Now
More than twenty years ago now another American President was promising a complete "settlement freeze" and a "transitional period" leading to a "Palestinian State". The notion that George W. Bush is doing so for the first time, sui generis, is not only blatantly historically fallacious but downright disingenuous.

August 17, 2004
"They are cheating us, laughing at us" - MER FlashBack 7 Years
"In the end, so long as the U.S. continues to back Israeli occupation with ever greater amounts of money, guns, and political protection, little will change and the "peace process" will remain a grand deception breeding resistance, hatred, and yes, more terrorism."

June 29, 2005
the Mideast's political vista is bleak and depressing - MER FlashBack 5 Years
"There is not a single Arab regime that has authentic political legitimacy. All are kept in power by soldiers and secret police... From Morocco to Iraq, the Mideast's political vista is bleak and depressing."



Archives


Index


Auto Audio


MERTV
This Week's TV program
Mark Bruzonsky live on CTV for the Arafat-Rabin-Clinton White House Ceremony
Mark Bruzonsky, MER Publisher was the live on-air commentator for CTV during the historic Arafat-Rabin-Clinton ceremony at the White House in Sept. 1993
Get RealPlayer FREE


Multimedia
This Week's Interview
Palestinian Author Ghada Karmi on Two or One State Solution
THE GUARDIAN - One State Solution? Ghada Karmi writes how the Two-State Solution Has Failed and there is Now Just the One-State Solution left to fight for.
Feature Program
MSNBC Interview with Mark Bruzonsky, December 1998
MSNBC Interview with Mark Bruzonsky, December 1998
Documentaries
Oslo Signing (CTV, 13 Sept 1993)
The Rabin-Arafat Oslo signing commentary at the White House with live commentary from Mark Bruzonsky in the CTV Washington Studio. (1:17:54)


Political Cartoons
[an error occurred while processing this directive]


Pictures
click to enlarge
Israeli Prime Minister Ariel Sharon, center, talks to Azzam Azzam, left, an Israeli-Arab jailed in Egypt since 1996 after being convicted for spying for Israel, his wife Amal, right, and Azzam's son, front left, during a visit to Azzam's village of Mughar in northern Israel, Monday Dec. 6, 2004. Azzam, who has maintained his innocence, was freed Sunday in exchange for six Egyptian students arrested by Israel in August for allegedly crossing the border illegally and planning to kidnap soldiers.
(AP Photo/Gil Cohen Magen, Pool)
[an error occurred while processing this directive]


MER World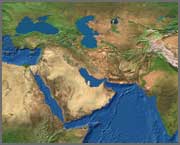 The Middle East Region From Space


Reader's Comments
I started reading your e-mails about a half year ago and very much agree with your views. I am a dutchman, living in Amsterdam (the Netherlands). Wish you good luck -- Hein Kroft , Amsterdam


Quotes from History
'EVERY TIME WE DO SOMETHING, YOU TELL ME AMERICANS WILL DO THIS AND WILL DO THAT. I WANT TO TELL YOU SOMETHING VERY CLEAR: DON'T WORRY ABOUT AMERICAN PRESSURE ON ISRAEL;WE, THE JEWISH PEOPLE, CONTROL AMERICA. AND THE AMERICANS KNOW IT.' -- Israeli Prime Minister Ariel Sharon - October 3, 2001(IAP News) --


Contact MER
Phone: (202) 362-5266
Fax (815) 366-0800
Special Press Number
24-Hours: (202) 686-2371
PRESS@MiddleEast.Org
MER Representatives are quickly available for Radio or Television interviews.
Support MER



Make a 1-time
Donation



Checks made to MER
can be sent to:
MER
P.O. Box 4918
Washington, DC 20008