Flashback MER Articles

August 11, 2004
Hidden History of the "Peace Process"
"It's not inordinate Chinese money and influence in American politics the Congress should be investigating, it's how Israel manipulates American politics with the help of some key Americans (most of them Jewish), who are in fact, however distasteful it is to say it, 'dually loyal'."

Listen to this 20-minute radion discussion on a Toronto Radio Program which was live on 5 November 2004.



June 23, 2004
It's Now the Second Half of 1948
As always Professor Tanya Reinhart from Tel Aviv University writes with extraordinary insight.

February 5, 2006
Colin Powell and The Mother of All Hoaxes
Last Friday evening Colin Powell's Chief of Staff in the State Department at the time Powell gave his historic speech at the U.N. Security Council came clean. It was that much-heralded speech of course that prepared the way for the launching of the disastrous Iraqi invasion/occupation. Now, Friday evening on the NOW! program on Public Broadcasting, Colonel Lawrence Wilkerson, who was right there helping prepare Powell's every move, damns it all as a 'historic hoax'.

April, 2004
Einstein in 1948
Einstein speaking up in 1948 way before his time and not on relativity!



Archives


Index


Auto Audio


MERTV
This Week's TV program
Mark Bruzonsky live on CTV for the Arafat-Rabin-Clinton White House Ceremony
Mark Bruzonsky, MER Publisher was the live on-air commentator for CTV during the historic Arafat-Rabin-Clinton ceremony at the White House in Sept. 1993
Get RealPlayer FREE


Multimedia
This Week's Interview
Palestinian Author Ghada Karmi on Two or One State Solution
THE GUARDIAN - One State Solution? Ghada Karmi writes how the Two-State Solution Has Failed and there is Now Just the One-State Solution left to fight for.
Feature Program
MSNBC Interview with Mark Bruzonsky, December 1998
MSNBC Interview with Mark Bruzonsky, December 1998
Documentaries
Oslo Signing (CTV, 13 Sept 1993)
The Rabin-Arafat Oslo signing commentary at the White House with live commentary from Mark Bruzonsky in the CTV Washington Studio. (1:17:54)


Political Cartoons
[an error occurred while processing this directive]


Pictures
click to enlarge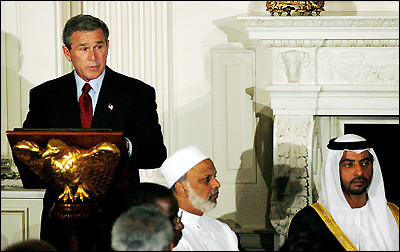 US President George Bush speaks while Imam Faizul Khan (C) and His Highness Sheikh Hamdan bin Zayed Al Nahayan (R), Minister of State for Foreign Affairs and Deputy Prime Minister for the United Arab Emirates, listen before the Iftaar Dinner held with ambassadors and Muslim leaders at the White House - 28 Oct 2003. This is a post-911 development in Washington and at the White House.
[an error occurred while processing this directive]


MER World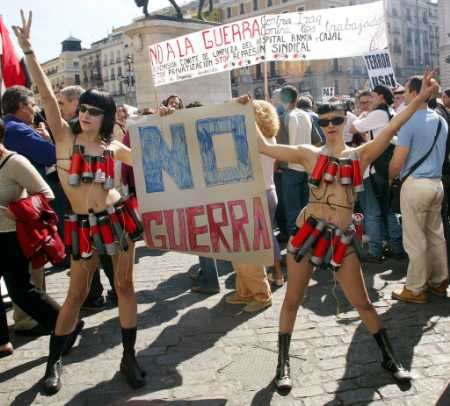 Demonstrators Dressed as Suicide Bombers at Anti-War Demo in Madrid - 9/28/2002


Reader's Comments
since two days I receive some articles from your magazine from a good friend of mine. As they are very intersting I would kindly ask you wether it is possible to receive from you some articles via the e-mail. Could also send me some information about MER? Many thanks and kindest regards. -- Meriem Werbrouck


Quotes from History
Certified lunatics are shut up because of their proneness to violence when their pretensions are questioned; the uncertified variety are given the control of powerful armies, and can inflict death and disaster upon all sane men within their reach. -- Bertrand Russell (1872-1970) - Power [1938] ch.16


Contact MER
Phone: (202) 362-5266
Fax (815) 366-0800
Special Press Number
24-Hours: (202) 686-2371
PRESS@MiddleEast.Org
MER Representatives are quickly available for Radio or Television interviews.
Support MER



Make a 1-time
Donation



Checks made to MER
can be sent to:
MER
P.O. Box 4918
Washington, DC 20008