Flashback MER Articles





February 5, 2006
Colin Powell and The Mother of All Hoaxes
Last Friday evening Colin Powell's Chief of Staff in the State Department at the time Powell gave his historic speech at the U.N. Security Council came clean. It was that much-heralded speech of course that prepared the way for the launching of the disastrous Iraqi invasion/occupation. Now, Friday evening on the NOW! program on Public Broadcasting, Colonel Lawrence Wilkerson, who was right there helping prepare Powell's every move, damns it all as a 'historic hoax'.

August 3, 2004
10 YEARS and 1 MILLION+ DEAD and COUNTING - MER FlashBack
"Here we are in the middle of the millennium year and we are responsible for genocide in Iraq. All of us that live in the silent democracies are responsible for sustained genocide in Iraq."Former Assistant Secretary General of the United Nations Denis Haliday July 28, 2004





April, 2003
IT'S REALLY A JOINT ISRAELI-AMERICAN WAR ON THE ARABS AND ON MUSLIMS...AND ONE BROUGHT ON BY THE ISRAELI/JEWISH LOBBY AND MINIONS IN WASHINGTON
Washington is intoxicated by the vision of imposing a Pax Americana on the Arab world on the model of the imperial 'order' which Britain imposed on the entire region in an earlier age... This is not a purely American project. Rather it must be seen as the culmination of America's strategic partnership with Israel... Much of the ideological justification and political pressure for war against Iraq has come from right-wing American Zionists, many of them Jews, closely allied to Israel's Prime Minister Ariel Sharon and occupying influential positions both inside and outside the Bush dministration. It is neither exaggeration, nor anti-Semitism, as they would have it, to say that this is a Bush-Sharon war against Iraq.



Archives


Index


Auto Audio


MERTV
This Week's TV program
Mark Bruzonsky live on CTV for the Arafat-Rabin-Clinton White House Ceremony
Mark Bruzonsky, MER Publisher was the live on-air commentator for CTV during the historic Arafat-Rabin-Clinton ceremony at the White House in Sept. 1993
Get RealPlayer FREE


Multimedia
This Week's Interview
Palestinian Author Ghada Karmi on Two or One State Solution
THE GUARDIAN - One State Solution? Ghada Karmi writes how the Two-State Solution Has Failed and there is Now Just the One-State Solution left to fight for.
Feature Program
MSNBC Interview with Mark Bruzonsky, December 1998
MSNBC Interview with Mark Bruzonsky, December 1998
Documentaries
Oslo Signing (CTV, 13 Sept 1993)
The Rabin-Arafat Oslo signing commentary at the White House with live commentary from Mark Bruzonsky in the CTV Washington Studio. (1:17:54)


Political Cartoons
[an error occurred while processing this directive]


Pictures
click to enlarge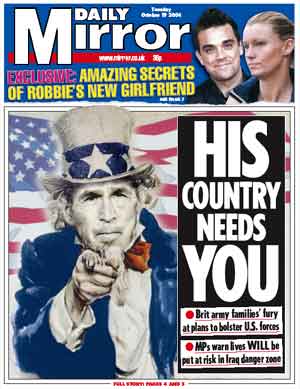 The cover of The Daily Mirror in London on 19 Oct 2004.
[an error occurred while processing this directive]


MER World


Arafat's destroyed Ramallah compound, Sep 21, 2002


Reader's Comments
I would very much like to receive MER in my email, regularily. Your organization was the first that I have found on the net to provide such concise and informative information void of any partisan views. You have a fabulous repetoire and I look forward to reading. -- (Person in Middle East Name kept confidential by request)


Quotes from History
'Were the Soviet Union to sink tomorrow under the waters of the ocean, the American military-industrial establishment would have to go on, substantially unchanged, until some other adversary could be invented. Anything else would be an unacceptable shock to the American economy.' -- George F. Kennan, 1987. Professor Emeritus at the Institute for Advanced Study and former US Ambassador to the Soviet Union.


Contact MER
Phone: (202) 362-5266
Fax (815) 366-0800
Special Press Number
24-Hours: (202) 686-2371
PRESS@MiddleEast.Org
MER Representatives are quickly available for Radio or Television interviews.
Support MER



Make a 1-time
Donation



Checks made to MER
can be sent to:
MER
P.O. Box 4918
Washington, DC 20008