Flashback MER Articles

June 29, 2004
Brits Departed Palestine Leaving Civil War - MER FlashBack
"Contrary to contemporary assertions, the British and the Americans have done far more to prevent democracy in the Middle East, and to inhibit independent economic development as well, then they will ever admit."

April, 2003
IT'S REALLY A JOINT ISRAELI-AMERICAN WAR ON THE ARABS AND ON MUSLIMS...AND ONE BROUGHT ON BY THE ISRAELI/JEWISH LOBBY AND MINIONS IN WASHINGTON
Washington is intoxicated by the vision of imposing a Pax Americana on the Arab world on the model of the imperial 'order' which Britain imposed on the entire region in an earlier age... This is not a purely American project. Rather it must be seen as the culmination of America's strategic partnership with Israel... Much of the ideological justification and political pressure for war against Iraq has come from right-wing American Zionists, many of them Jews, closely allied to Israel's Prime Minister Ariel Sharon and occupying influential positions both inside and outside the Bush dministration. It is neither exaggeration, nor anti-Semitism, as they would have it, to say that this is a Bush-Sharon war against Iraq.

August 17, 2004
"They are cheating us, laughing at us" - MER FlashBack 7 Years
"In the end, so long as the U.S. continues to back Israeli occupation with ever greater amounts of money, guns, and political protection, little will change and the "peace process" will remain a grand deception breeding resistance, hatred, and yes, more terrorism."

September 30, 2004
MER Warned About Jewish Neocons and Israeli Lobby Long Ago
Think back now to the days before the Bush/Cheney regime took power in Washington, before the term 'neocon' and the policy of 'pre-emption' were in wide use, and to before 9/11 was even imagined by all but a very few. MER was already long ago raising the warning flags, explaining what was really happening in Washington as well as in the Middle East, previewing what has since come to be; all while so many others were proclaiming the 'peace process is irreversible' and Yasser Arafat was the most frequent foreign guest at the American White House!

February, 2005
McJewish McCarthy
"What is happening at the moment at Columbia University and to Professor Rashid Khalidi and others, for instance, is but a small visible part of a sordid stinking contemporary witch-hunt political iceberg. It is wrong; it is grossly unfair; it is frighteningly untruthful; if not halted it will continue to grow and spread and the stains and stench of this modern-day McCarthism will expand with ever-more intimidation and repression... Where are those individually and collectively who have the courage and the dignity to cry foul and raise the real banners of true liberty, defense of the crucial First Amendment, and real democracy...not to mention truthfulness?"



Archives


Index


Auto Audio


MERTV
This Week's TV program
Mark Bruzonsky live on CTV for the Arafat-Rabin-Clinton White House Ceremony
Mark Bruzonsky, MER Publisher was the live on-air commentator for CTV during the historic Arafat-Rabin-Clinton ceremony at the White House in Sept. 1993
Get RealPlayer FREE


Multimedia
This Week's Interview
Palestinian Author Ghada Karmi on Two or One State Solution
THE GUARDIAN - One State Solution? Ghada Karmi writes how the Two-State Solution Has Failed and there is Now Just the One-State Solution left to fight for.
Feature Program
MSNBC Interview with Mark Bruzonsky, December 1998
MSNBC Interview with Mark Bruzonsky, December 1998
Documentaries
Oslo Signing (CTV, 13 Sept 1993)
The Rabin-Arafat Oslo signing commentary at the White House with live commentary from Mark Bruzonsky in the CTV Washington Studio. (1:17:54)


Political Cartoons
[an error occurred while processing this directive]


Pictures
click to enlarge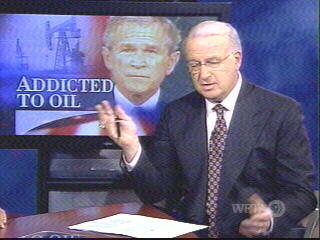 [an error occurred while processing this directive]


MER World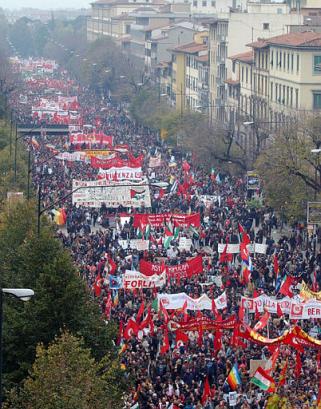 More than a Half Million Persons Marching Against US and War Plans in Florence on 9 Nov 2002


Reader's Comments
I would like to express my gratitude for all the efforts you are doing for the sake of the people of this region. I do follow your articles...and I do realize the importance of your combat... Many thanks. -- Oroub - Amman


Quotes from History
'Everybody has to move, run and grab as many hilltops as they can to enlarge the settlements because everything we take now will stay ours... Everything we don't grab will go to them.' -- Ariel Sharon, current Israeli Prime Minister, quote from 1998


Contact MER
Phone: (202) 362-5266
Fax (815) 366-0800
Special Press Number
24-Hours: (202) 686-2371
PRESS@MiddleEast.Org
MER Representatives are quickly available for Radio or Television interviews.
Support MER



Make a 1-time
Donation



Checks made to MER
can be sent to:
MER
P.O. Box 4918
Washington, DC 20008