Flashback MER Articles

February, 2005
McJewish McCarthy
"What is happening at the moment at Columbia University and to Professor Rashid Khalidi and others, for instance, is but a small visible part of a sordid stinking contemporary witch-hunt political iceberg. It is wrong; it is grossly unfair; it is frighteningly untruthful; if not halted it will continue to grow and spread and the stains and stench of this modern-day McCarthism will expand with ever-more intimidation and repression... Where are those individually and collectively who have the courage and the dignity to cry foul and raise the real banners of true liberty, defense of the crucial First Amendment, and real democracy...not to mention truthfulness?"

September 22, 2004
ARAB AMERICANS - REALITIES NOT DECEPTIONS
The real message to the tough-minded politicos in Washington is this: There's nothing to worry about from Arab Americans...working overtime they can only mobilize quite few in numbers...they are not even protesting against the upcoming agreement itself likely to be soon signed across the street...they know nothing about the power of civil disobedience...they have no powerful or even significant allies...their leadership is naive and oftentimes foolish...and the Arab organizations we work with can be counted on to keep them under control come what may.

June 25, 2004
The Historical Moment - MER Flashback Four Years
MER FLASHBACK to 25 June 2001: Months before what is now known as "9/11" MER published these articles indicating that a major strike by Osama

April 10, 2005
IRAQ AUTOPSY - FlashBack 2 Years
"The United States has embarked on an imperial adventure in the Middle East. This is the true meaning of the war against Iraq... Washington is

June 6, 2005
America's Little Gulag - MER FlashBack




Archives


Index


Auto Audio


MERTV
This Week's TV program
Mark Bruzonsky live on CTV for the Arafat-Rabin-Clinton White House Ceremony
Mark Bruzonsky, MER Publisher was the live on-air commentator for CTV during the historic Arafat-Rabin-Clinton ceremony at the White House in Sept. 1993
Get RealPlayer FREE


Multimedia
This Week's Interview
Palestinian Author Ghada Karmi on Two or One State Solution
THE GUARDIAN - One State Solution? Ghada Karmi writes how the Two-State Solution Has Failed and there is Now Just the One-State Solution left to fight for.
Feature Program
MSNBC Interview with Mark Bruzonsky, December 1998
MSNBC Interview with Mark Bruzonsky, December 1998
Documentaries
Oslo Signing (CTV, 13 Sept 1993)
The Rabin-Arafat Oslo signing commentary at the White House with live commentary from Mark Bruzonsky in the CTV Washington Studio. (1:17:54)


Political Cartoons
[an error occurred while processing this directive]


Pictures
click to enlarge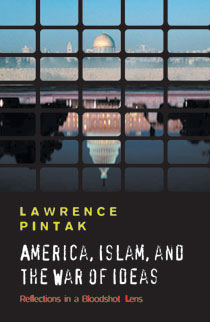 LAWRENCE Pintak, a former CBS News Middle East correspondent, is presently the director of The Adham Center for Electronic Journalism at the American University in Cairo. His latest book "America, Islam, and the War of Ideas Reflections in a Bloodshot Lens" is an attempt to understand why the United States lost the widespread sympathy it had earned in the aftermath of 9/11.
[an error occurred while processing this directive]


MER World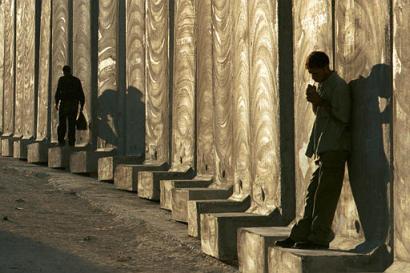 Israel's 'Apartheid' Wall Being Built on Palestinian Land to Keep the Natives on modern-day Reservations


Reader's Comments
Thank you for all of the past information. It has been helpful in understanding the Middleeast. Your perspective is important. -- Pete Espinosa, Saddleback College


Quotes from History
If we don't believe in freedom of expression for people we despise, we don't believe in it at all. -- Noam Chomsky, 1992


Contact MER
Phone: (202) 362-5266
Fax (815) 366-0800
Special Press Number
24-Hours: (202) 686-2371
PRESS@MiddleEast.Org
MER Representatives are quickly available for Radio or Television interviews.
Support MER



Make a 1-time
Donation



Checks made to MER
can be sent to:
MER
P.O. Box 4918
Washington, DC 20008