Flashback MER Articles

June 25, 2004
The Historical Moment - MER Flashback Four Years
MER FLASHBACK to 25 June 2001: Months before what is now known as "9/11" MER published these articles indicating that a major strike by Osama

June 8, 2005
KILLING IRAQ - MER FlashBack 5 Long Years Ago


August 17, 2004
"They are cheating us, laughing at us" - MER FlashBack 7 Years
"In the end, so long as the U.S. continues to back Israeli occupation with ever greater amounts of money, guns, and political protection, little will change and the "peace process" will remain a grand deception breeding resistance, hatred, and yes, more terrorism."

December 1, 2004
Sharon - Past and Future - MER FLASHBACK
"Sharon was a killer obsessed with hatred of Palestinians. I had promised Arafat that his people would not get any harm. Sharon, however, ignored this commitment entirely. Sharon's word is worth nil." -Ambassador Philip Habib, Ronald Reagan's Special Middle East Envoy*

June 4, 2006
WHAT HAPPENED THEN WAS PRECURSOR TO NOW
Eight years ago the political manueverings with the CIA, the Palestinian Authority, Hamas, and of course Israeli, the Mossad, and Washington, were considerable. What was done then is precursor to what has happened since and what is being planned now. Now the CIA and Mossad are more involved with the Fateh movement headed by Mahmoud Abbas than ever before, arming them in fact for the civil war the Israelis have long considered a good alternative if the Palestinians couldn't be forced to sign away their rights and live as Indians on Reservations 'peacefully'. This MER Flashback to June 1998:



Archives


Index


Auto Audio


MERTV
This Week's TV program
Mark Bruzonsky live on CTV for the Arafat-Rabin-Clinton White House Ceremony
Mark Bruzonsky, MER Publisher was the live on-air commentator for CTV during the historic Arafat-Rabin-Clinton ceremony at the White House in Sept. 1993
Get RealPlayer FREE


Multimedia
This Week's Interview
Palestinian Author Ghada Karmi on Two or One State Solution
THE GUARDIAN - One State Solution? Ghada Karmi writes how the Two-State Solution Has Failed and there is Now Just the One-State Solution left to fight for.
Feature Program
MSNBC Interview with Mark Bruzonsky, December 1998
MSNBC Interview with Mark Bruzonsky, December 1998
Documentaries
Oslo Signing (CTV, 13 Sept 1993)
The Rabin-Arafat Oslo signing commentary at the White House with live commentary from Mark Bruzonsky in the CTV Washington Studio. (1:17:54)


Political Cartoons
[an error occurred while processing this directive]


Pictures
click to enlarge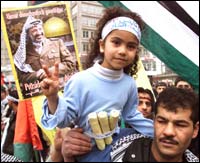 Palestinian Resistance Remains Deeply Felt Throughout the Occupied Territories
[an error occurred while processing this directive]


MER World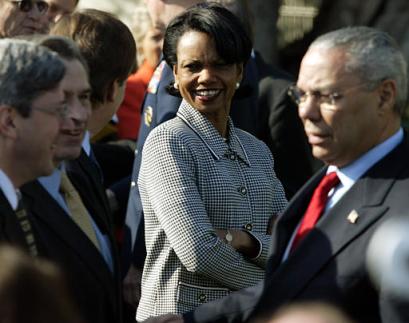 Condi Rice with Paul Wolfowitz, Doug Feith, and Colin Powell - White House, March 2004


Reader's Comments
I would like to express my gratitude for all the efforts you are doing for the sake of the people of this region. I do follow your articles...and I do realize the importance of your combat... Many thanks. -- Oroub - Amman


Quotes from History
(One night in 1880, John Swinton, then the preeminent New York journalist, was the guest of honour at a banquet given him by the leaders of his craft. Someone who knew neither the press nor Swinton offered a toast to the independent press. Swinton outraged his colleagues by replying:) 'There is no such thing, at this date of the world's history, in America, as an independent press. You know it and I know it. There is not one of you who dares to write your honest opinions, and if you did, you know beforehand that it would never appear in print. I am paid weekly for keeping my honest opinion out of the paper I am connected with. Others of you are paid similar salaries for similar things, and any of you who would be so foolish as to write honest opinions would be out on the streets looking for another job. If I allowed my honest opinions to appear in one issue of my paper, before twenty-four hours my occupation would be gone. The business of the journalists is to destroy the truth, to lie outright, to pervert, to vilify, to fawn at the feet of mammon, and to sell his country and his race for his daily bread. You know it and I know it, and what folly is this toasting an independent press? We are the tools and vassals of rich men behind the scenes. We are the jumping jacks, they pull the strings and we dance. Our talents, our possibilities and our lives are all the property of other men. We are intellectual prostitutes.' -- John Swinton, 1880


Contact MER
Phone: (202) 362-5266
Fax (815) 366-0800
Special Press Number
24-Hours: (202) 686-2371
PRESS@MiddleEast.Org
MER Representatives are quickly available for Radio or Television interviews.
Support MER



Make a 1-time
Donation



Checks made to MER
can be sent to:
MER
P.O. Box 4918
Washington, DC 20008