Flashback MER Articles

September 8, 2008
FlashBack - Arafat's Assassination - Mark Bruzonsky on Toronto Radio Program at the time, 5 Nov 04
Mark Bruzonsky spoke about the Arafat Assassinaton at the time on Toronto Radio Program at the time it happened, not years after.

April 10, 2005
IRAQ AUTOPSY - FlashBack 2 Years
"The United States has embarked on an imperial adventure in the Middle East. This is the true meaning of the war against Iraq... Washington is

July 28, 2006
Why Are Things So Bad In Washington? MER FlashBack
Why are things so bad in Washington? Why is the Israel Lobby so strong and those who are supposed to represent the Arab countries and peoples so pathetic weak and incompetent? Some of the answers can be found in this MER Flashback first published nearly two years ago in September 2004:

January 21, 2006
Torturing Palestinians
From MER in January 1997: Torture of Palestinians is not only routine and systematic, in it actually sanctioned by the Israeli legal system that has been twisted to serve Israeli policies. Going back to the Shinbet scandal of the early 1980's, even more sadistic forms of torture have given way to the kinds of 'legalized' torture methods outlined in this important article from one of the few independent and courageous media sources in Israel, The Alternative Information Center (AIC). Among the reasons the Israelis get away with such systematic torture of Palestinians is that hardly anyone is willing to protest. The so-called "Palestinian Authority" practices similar and even worse torture techniques, as do nearly all of the Arab governments in the region -- so they are hardly in a position to protest. And the "liberal" American Jewish community has been morally bankrupt about such issues for so long now that to speak up at this point would be to condemn themselves for permitting, and even encouraging in many cases, such Nazi-like behavior by the Israelis for decades.

December 3, 2004
9/11 was foreseeable one way or another
What has happened in recent years, indeed what happened on 9/11 and then it's aftermath, were in general quite foreseeable, no matter how much official Washington keeps pretending otherwise. The aggressive, imperialistic, self-righteous, deceptive, and oh-so-arrogant policies of the United States and Israel were at work for decades provoking and creating a kind of historical blowback that the whole world is now forced to live with. The following MER Editorial was published on Thanksgiving day in November 1997.



Archives


Index


Auto Audio


MERTV
This Week's TV program
Mark Bruzonsky live on CTV for the Arafat-Rabin-Clinton White House Ceremony
Mark Bruzonsky, MER Publisher was the live on-air commentator for CTV during the historic Arafat-Rabin-Clinton ceremony at the White House in Sept. 1993
Get RealPlayer FREE


Multimedia
This Week's Interview
Palestinian Author Ghada Karmi on Two or One State Solution
THE GUARDIAN - One State Solution? Ghada Karmi writes how the Two-State Solution Has Failed and there is Now Just the One-State Solution left to fight for.
Feature Program
MSNBC Interview with Mark Bruzonsky, December 1998
MSNBC Interview with Mark Bruzonsky, December 1998
Documentaries
Oslo Signing (CTV, 13 Sept 1993)
The Rabin-Arafat Oslo signing commentary at the White House with live commentary from Mark Bruzonsky in the CTV Washington Studio. (1:17:54)


Political Cartoons
[an error occurred while processing this directive]


Pictures
click to enlarge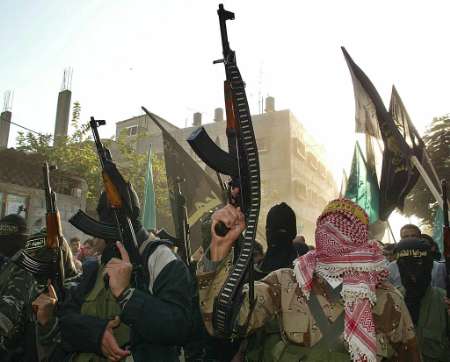 Masked Palestinians hold up their AK-47 rifles during the funeral of Ashour Salim Deeb, 70, in Beit Lahiya in the northern Gaza strip, December 1, 2002. Israeli forces killed two people in a raid on a Gaza Strip town and then wounded four others in a helicopter gunship attack nearby.
[an error occurred while processing this directive]


MER World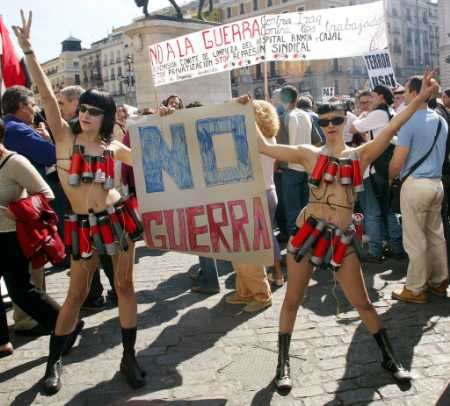 Demonstrators Dressed as Suicide Bombers at Anti-War Demo in Madrid - 9/28/2002


Reader's Comments
I started reading your e-mails about a half year ago and very much agree with your views. I am a dutchman, living in Amsterdam (the Netherlands). Wish you good luck -- Hein Kroft , Amsterdam


Quotes from History
'Bush wants to divert attention from his domestic problems. It's a classic tactic. It's one that Hitler used.' (referring to America's proposed war against Iraq) -- Germany's Justice Minister, Herta Daeubler-Gmelin, Schwaebisches Tagblatt, Sep. 18, 2002


Contact MER
Phone: (202) 362-5266
Fax (815) 366-0800
Special Press Number
24-Hours: (202) 686-2371
PRESS@MiddleEast.Org
MER Representatives are quickly available for Radio or Television interviews.
Support MER



Make a 1-time
Donation



Checks made to MER
can be sent to:
MER
P.O. Box 4918
Washington, DC 20008