Flashback MER Articles

August 17, 2004
"They are cheating us, laughing at us" - MER FlashBack 7 Years
"In the end, so long as the U.S. continues to back Israeli occupation with ever greater amounts of money, guns, and political protection, little will change and the "peace process" will remain a grand deception breeding resistance, hatred, and yes, more terrorism."

April, 2004
Einstein in 1948
Einstein speaking up in 1948 way before his time and not on relativity!





May, 2004
TORTURE
Despite all the claims of 'shock' and 'disgust', until the US, British, and Israeli prisons are opened to international inspection the assumption will now be that these practices are not so uncommon...only that the revelation of them is.

August, 2001
"INVITING HELL TO BREAK LO0SE" - PFLP LEADER ASSASSINATED TODAY
The Israelis are clearly planning to totally crush the Palestinians -- Minister Uzi Landau is publicly saying as much -- probably thinking they can buy themselves still more years to consolidate their grip on the occupied territories and probably scheming for the opportunity to push as many Palestinians as they can across the Jordan and into a Hashemite Kingdom that will eventually, sooner or later, implode into a Palestinian State.



Archives


Index


Auto Audio


MERTV
This Week's TV program
Mark Bruzonsky live on CTV for the Arafat-Rabin-Clinton White House Ceremony
Mark Bruzonsky, MER Publisher was the live on-air commentator for CTV during the historic Arafat-Rabin-Clinton ceremony at the White House in Sept. 1993
Get RealPlayer FREE


Multimedia
This Week's Interview
Palestinian Author Ghada Karmi on Two or One State Solution
THE GUARDIAN - One State Solution? Ghada Karmi writes how the Two-State Solution Has Failed and there is Now Just the One-State Solution left to fight for.
Feature Program
MSNBC Interview with Mark Bruzonsky, December 1998
MSNBC Interview with Mark Bruzonsky, December 1998
Documentaries
Oslo Signing (CTV, 13 Sept 1993)
The Rabin-Arafat Oslo signing commentary at the White House with live commentary from Mark Bruzonsky in the CTV Washington Studio. (1:17:54)


Political Cartoons
[an error occurred while processing this directive]


Pictures
click to enlarge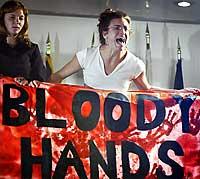 Demonstrators disrupt a speech on Iraq by Defense Secretary Donald Rumsfeld at the National Press Club in Washington on 10 Sept 2003. One unfurled a banner that read "Bloody Hands."
[an error occurred while processing this directive]


MER World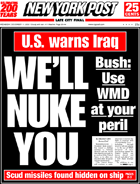 'We'll Nuke You!' - New York Post, 11 Dec 2002


Reader's Comments
MER is Excellent, Interesting, Impartial, Comprehesive and Hot. MOST of all it is the TRUTH. -- Azam B. Markar (Student) Colombo, Sri Lanka.


Quotes from History


Contact MER
Phone: (202) 362-5266
Fax (815) 366-0800
Special Press Number
24-Hours: (202) 686-2371
PRESS@MiddleEast.Org
MER Representatives are quickly available for Radio or Television interviews.
Support MER



Make a 1-time
Donation



Checks made to MER
can be sent to:
MER
P.O. Box 4918
Washington, DC 20008