Flashback MER Articles

December, 2001
Thank You Der Spiegel
We've yet to see the full English translation of yesterday's important article by Publisher Rudolf Augstein of Der Spiegel. But right away we can certainly comment that it's about time German intellectuals and journalists realized that precisely because of their past they have a special obligation to stand up against racism and facism and brute militarism -- from whatever quarter it rears its ugly tentacles.

June 29, 2004
Brits Departed Palestine Leaving Civil War - MER FlashBack
"Contrary to contemporary assertions, the British and the Americans have done far more to prevent democracy in the Middle East, and to inhibit independent economic development as well, then they will ever admit."

July 28, 2006
Why Are Things So Bad In Washington? MER FlashBack
Why are things so bad in Washington? Why is the Israel Lobby so strong and those who are supposed to represent the Arab countries and peoples so pathetic weak and incompetent? Some of the answers can be found in this MER Flashback first published nearly two years ago in September 2004:

April, 2004
Einstein in 1948
Einstein speaking up in 1948 way before his time and not on relativity!

September 11, 2004
9/11 began a long time ago and for very real reasons
Those who were reading MER six years ago were giving a prescient foretaste of what has since come, and why. This MER article was originally published on 25 August 1998. Read it now keeping in mind that what has been happening since was being caused and was foreseeable then; just as what is being done now is creating the still bleaker future now ahead if today's course in Washington is not significantly altered...and soon.



Archives


Index


Auto Audio


MERTV
This Week's TV program
Mark Bruzonsky live on CTV for the Arafat-Rabin-Clinton White House Ceremony
Mark Bruzonsky, MER Publisher was the live on-air commentator for CTV during the historic Arafat-Rabin-Clinton ceremony at the White House in Sept. 1993
Get RealPlayer FREE


Multimedia
This Week's Interview
Palestinian Author Ghada Karmi on Two or One State Solution
THE GUARDIAN - One State Solution? Ghada Karmi writes how the Two-State Solution Has Failed and there is Now Just the One-State Solution left to fight for.
Feature Program
MSNBC Interview with Mark Bruzonsky, December 1998
MSNBC Interview with Mark Bruzonsky, December 1998
Documentaries
Oslo Signing (CTV, 13 Sept 1993)
The Rabin-Arafat Oslo signing commentary at the White House with live commentary from Mark Bruzonsky in the CTV Washington Studio. (1:17:54)


Political Cartoons
[an error occurred while processing this directive]


Pictures
click to enlarge
[an error occurred while processing this directive]


MER World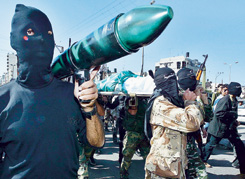 A masked Palestinian gunman wielding a handmade rocket launcher in Gaza during the funeral of Mustafa Sabah, killed Wednesday by an Israeli air strike. Sabah was considered a master bombmaker responsible for blowing up three Israeli tanks.


Reader's Comments
Thanks for all of the hard work you have put into making MER the great resource that it is! -- Sarah Masters (UK)


Quotes from History
'The most consistent and ultimately damaging failure of political journalism in America (is that it) has its roots in the clubby/cocktail personal relationships that inevitably develop between politicians and journalists.' -- From


Contact MER
Phone: (202) 362-5266
Fax (815) 366-0800
Special Press Number
24-Hours: (202) 686-2371
PRESS@MiddleEast.Org
MER Representatives are quickly available for Radio or Television interviews.
Support MER



Make a 1-time
Donation



Checks made to MER
can be sent to:
MER
P.O. Box 4918
Washington, DC 20008