Flashback MER Articles

April 10, 2005
IRAQ AUTOPSY - FlashBack 2 Years
"The United States has embarked on an imperial adventure in the Middle East. This is the true meaning of the war against Iraq... Washington is

August 17, 2004
"They are cheating us, laughing at us" - MER FlashBack 7 Years
"In the end, so long as the U.S. continues to back Israeli occupation with ever greater amounts of money, guns, and political protection, little will change and the "peace process" will remain a grand deception breeding resistance, hatred, and yes, more terrorism."

December, 2001
Thank You Der Spiegel
We've yet to see the full English translation of yesterday's important article by Publisher Rudolf Augstein of Der Spiegel. But right away we can certainly comment that it's about time German intellectuals and journalists realized that precisely because of their past they have a special obligation to stand up against racism and facism and brute militarism -- from whatever quarter it rears its ugly tentacles.

September 11, 2004
9/11 began a long time ago and for very real reasons
Those who were reading MER six years ago were giving a prescient foretaste of what has since come, and why. This MER article was originally published on 25 August 1998. Read it now keeping in mind that what has been happening since was being caused and was foreseeable then; just as what is being done now is creating the still bleaker future now ahead if today's course in Washington is not significantly altered...and soon.

June 6, 2005
America's Little Gulag - MER FlashBack




Archives


Index


Auto Audio


MERTV
This Week's TV program
Mark Bruzonsky live on CTV for the Arafat-Rabin-Clinton White House Ceremony
Mark Bruzonsky, MER Publisher was the live on-air commentator for CTV during the historic Arafat-Rabin-Clinton ceremony at the White House in Sept. 1993
Get RealPlayer FREE


Multimedia
This Week's Interview
Palestinian Author Ghada Karmi on Two or One State Solution
THE GUARDIAN - One State Solution? Ghada Karmi writes how the Two-State Solution Has Failed and there is Now Just the One-State Solution left to fight for.
Feature Program
MSNBC Interview with Mark Bruzonsky, December 1998
MSNBC Interview with Mark Bruzonsky, December 1998
Documentaries
Oslo Signing (CTV, 13 Sept 1993)
The Rabin-Arafat Oslo signing commentary at the White House with live commentary from Mark Bruzonsky in the CTV Washington Studio. (1:17:54)


Political Cartoons
[an error occurred while processing this directive]


Pictures
click to enlarge

An Iranian woman walks past an anti-American mural in Tehran.
[an error occurred while processing this directive]


MER World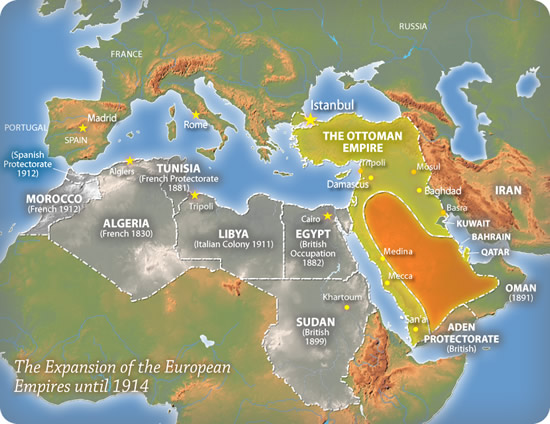 By the early 20th century, Europe had carved up much of the Middle East and Africa.


Reader's Comments
Hi, My name is Furqan S. Khan and I am writting this email to you because I wanted to thank you for providing me with information into the realities of the middle east better then I have ever encountered before even while living in the middle east. I would especially like to thank Mark Brunsky for his thought provoking knowledge into politics which quite frankly I wish all journalists could have to guts to disclose as Mark does. Yes my name does imply that I was born a muslim but I do not praise your website for any kind of pro muslim or whatever kind of view. In fact I am not a religious person at all. I believe more in a philantrhropic view of worldly things that I believe needs to be expressed more. The flagrent honesty of your website brings out a heart warming feeling in me that keeps the flicker of hope of man goodness alive in me. Thank you. My only suggestion is that you transform your website from middle east realities into world realities because quite frankly the issues which plague the middle east do plague our world as well and I would only trust people as yourself to tell them like they truly are. -- Furqan S. Khan - 15 April 2004


Quotes from History
'The National Government will regard it as its first and foremost duty to revive in the nation the spirit of unity and cooperation. It will preserve and defend those basic principles on which our nation has been built. It regards Christianity as the foundation of our national morality, and the family as the basis of national life.' -- Adolph Hitler, My New World Order, Proclamation to the German Nation at Berlin, February 1, 1933


Contact MER
Phone: (202) 362-5266
Fax (815) 366-0800
Special Press Number
24-Hours: (202) 686-2371
PRESS@MiddleEast.Org
MER Representatives are quickly available for Radio or Television interviews.
Support MER



Make a 1-time
Donation



Checks made to MER
can be sent to:
MER
P.O. Box 4918
Washington, DC 20008